NYT Publisher Says Digging Up Journos' Old Tweets Is An Attack On The 'Free Press'
Chris Menahan
InformationLiberation
Aug. 26, 2019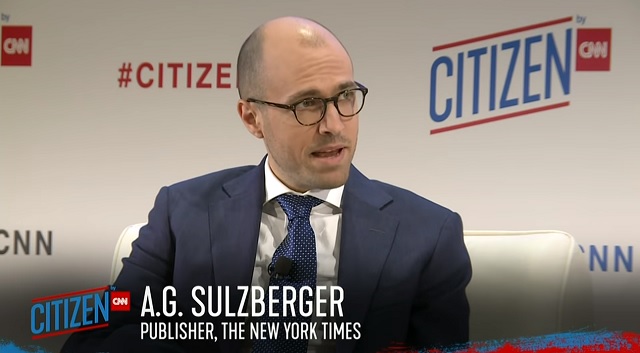 When the New York Times takes Republicans out of context and accuses them of antisemitism it's the height of journalism but when Breitbart takes Democrats out of context and accuses them of antisemitism it's an attack on the "free press."

From The New York Times, "Trump Allies Target Journalists Over Coverage Deemed Hostile to White House":

A loose network of conservative operatives allied with the White House is pursuing what they say will be an aggressive operation to discredit news organizations deemed hostile to President Trump by publicizing damaging information about journalists.

It is the latest step in a long-running effort by Mr. Trump and his allies to undercut the influence of legitimate news reporting. Four people familiar with the operation described how it works, asserting that it has compiled dossiers of potentially embarrassing social media posts and other public statements by hundreds of people who work at some of the country's most prominent news organizations.
How is this any different to what our media does every single day to lowly plebs just for sharing memes on social media? The only difference I can see is the media targets lowly "Beckys" rather than punch up.
A. G. Sulzberger, the publisher of The Times, said in a statement that such tactics were taking the president's campaign against a free press to a new level.

"They are seeking to harass and embarrass anyone affiliated with the leading news organizations that are asking tough questions and bringing uncomfortable truths to light," Mr. Sulzberger said. "The goal of this campaign is clearly to intimidate journalists from doing their job, which includes serving as a check on power and exposing wrongdoing when it occurs. The Times will not be intimidated or silenced."
That could just as easily be describing the SPLC and the ADL.
In a statement, a CNN spokesman said that when government officials, "and those working on their behalf, threaten and retaliate against reporters as a means of suppression, it's a clear abandonment of democracy for something very dangerous."
CNN lobbied (successfully) to shut down Infowars.
The operation is targeting the news media by using one of the most effective weapons of political combat -- deep and laborious research into the public records of opponents to find contradictions, controversial opinions or toxic affiliations. The liberal group Media Matters for America helped pioneer close scrutiny of public statements by conservative media personalities.
Literally all they do is use Twitter's search function to search through their targets' old tweets.
The conservative operative James O'Keefe has twisted that concept in ways inconsistent with traditional journalistic ethics, using false identities, elaborate cover stories and undercover videos to entrap journalists and publicize embarrassing statements, often in misleading ways, to undercut the credibility of what he considers news media biased in favor of liberals.

In the case of the pro-Trump network, research into journalists is being deployed for the political benefit of the White House. It is targeting not only high-profile journalists who challenge the administration, but also anyone who works for any news organization that members of the network see as hostile to Mr. Trump, no matter how tangential that job may be to the coverage of his presidency. And it is being used explicitly as retribution for coverage.

Some reporters have been warned that they or their news organizations could be targets, creating the impression that the campaign intended in part to deter them from aggressive coverage as well as to inflict punishment after an article has been published.
What does it even matter?

You don't have to fire these people if you don't want to.

You're not going to lose any advertisers the way Tucker Carlson or those of us in the alt-media have and you're not going to face any repercussions.

When Sarah Jeong was exposed for sending out dozens of virulently racist anti-white tweets you said you didn't give a damn and knew about it before you hired her.


This is literally just empty whining to cultivate a much-cherished victim narrative. You're asking us to believe the most powerful media organization in the world is a powerless victim of some right-wing internet trolls.

The reality is the mainstream media and their allies in Big Tech are the biggest threats to the free press on the planet.

At the behest of our ruling oligarchs, Google algorithmically censored all independent media and artificially boosted sites like the New York Times on both YouTube and Google to the point where you can't even find any independent media at all with the overwhelming majority of Google/YouTube searches.

This is an unprecedented level of censorship far beyond any book burnings of the past and the New York Times is leading the charge demanding the censorship!


Follow InformationLiberation on Twitter, Facebook, Gab and Minds.