CNN to Trump Supporter: 'Do You Believe That These Children Could Terrorize The United States?'
Chris Menahan
InformationLiberation
Jan. 29, 2017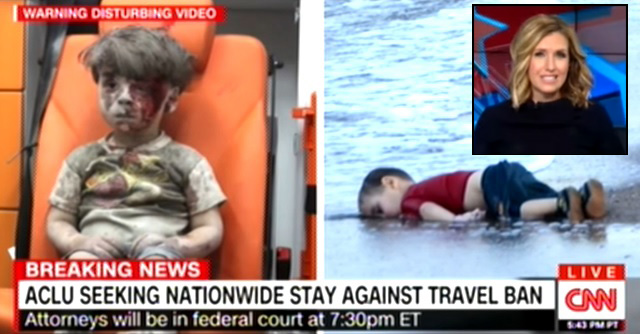 CNN host Poppy Harlow asked a Trump supporter if he believes dead beach boy Alan Kurdi and Syrian ambulance boy Omran Daqneesh could "terrorize the United States."

After putting pictures of the two children on the screen, Harlow said: "These are victims of the civil war in Syria, these are victims who will not be allowed in this country."

"Do you believe that these children could terrorize the United States?" Harlow asked Trump supporter Jeffrey Lord.

Lord responded by saying Bush was criticized in the New York Times for failing to heed warnings in advance of 9/11: "If George W. Bush had instituted the measures that Donald Trump is instituting now, 9/11, A, would never have happened, and, B, you would have had all these complaints from people, exactly as you're complaining now. That 'they're being kept out,' that 'this is terrible,' etc. In other words, you're damned if you do, damned if you don't."



Two months ago, a Somali "refugee" terrorist went on a stabbing spree at Ohio State University:



In December, a so-called "refugee" carried out a truck massacre in Berlin:



Similar refujihadist attacks are now regular occurrences all over Europe.

Both the stories CNN and the rest of the lying media ran with to drum up support for the ongoing Syrian war which destabilized the country and caused the migrant crisis are manipulative hoaxes:



Beach boy's father was an economic migrant who was living safely in Turkey and only left because he wanted to get his teeth done for free in Europe.



As Australian Senator Cory Bernardi said at the time: "That boy and his family had lived in Turkey for three years. The money for that boy's father to pay the people smugglers was sent from Canada."

"The father sent them on that boat so the father could get dental treatment. They were in no fear, they were in no persecution and they were in no danger in Turkey."

With Ambulance boy's photo-op, it would be just as easy to find a child victim of US-backed rebel terrorists in Syria and put their image on newspapers across the world as it was to find a victim of the Russian and Syrian army.

Donald Trump was entirely in the right to ban these phony "refugees" from America and the only complaint should be that he didn't go far enough.

Follow InformationLiberation on Twitter and Facebook.