'I'm The Child of a Holocaust Survivor': DHS Chief Mayorkas Invokes Holocaust to Counter Criticism From Sen. Hawley
Chris Menahan
InformationLiberation
Oct. 31, 2023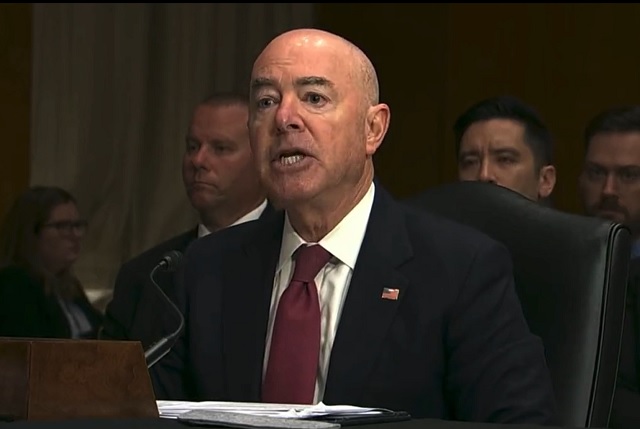 Department of Homeland Security Secretary Alejandro Mayorkas invoked the Holocaust on Tuesday to counter criticism from Senator Josh Hawley that he wasn't doing enough to punish a DHS employee who expressed pro-Palestinian views.

Hawley demanded Mayorkas answer whether he had fired a DHS officer for posting an AI-generated meme image of a Hamas paraglider to her personal Instagram account along with the caption, "Free Palestine."


Mayorkas said she was placed on administrative leave but declined to say whether she was fired as he cannot comment on an "ongoing personnel matter."

After Hawley was done with his song and dance, Mayorkas brought up the Holocaust to tell him off.

Transcript via Mediaite:

HAWLEY: I can't believe that you would come to this committee knowing about this! I've written to you about it. You know all about it! And you come here, and you're unwilling to answer, and suggest that it's wrong of me to even ask the question! Quite frankly, Mr. Secretary, I think that your performance is despicable and I think the fact that you're not willing to provide answers to this committee is absolutely atrocious.

MAYORKAS: Mr. Chairman, may I?

CHAIRMAN: If you'd like to have a minute to respond --

MAYORKAS: Oh, I would, and I'm not sure I'll limit it to 60 seconds.

CHAIRMAN: That's fine.

MAYORKAS: Number one, what I found despicable was the implication that -- this language, tremendously odious -- actually could be emblematic of the sentiments of the 260,000 men and women of the Department of Homeland Security, number one.

Number two, Sen. Hawley takes an adversarial approach to me in this question, and perhaps he doesn't know my own background. Perhaps he does not know that I'm a child of a Holocaust survivor. Perhaps he does not know that my mother lost all of her family at the hands of the Nazis. And so, I find his adversarial tone to be entirely misplaced. I find it to be disrespectful of me and my heritage. And I do not expect an apology, but I did want to say what I just articulated.
Hawley -- who made a name for himself by criticizing "cancel culture," "wokeness" and online censorship of conservatives -- used the bulk of his testimony to push for Mayorkas to cancel the visas of critics of Israel and have them deported for their political views (which he characterized as violence).


Hawley did find a small amount of time, about one minute and 25 seconds, to criticize Mayorkas over his poor performance on our southern border.


Does the average Missourian care more about our border being wide open to millions of illegal aliens or one DHS employee being pro-Palestine?

Follow InformationLiberation on Twitter, Facebook, Gab, Minds and Telegram.