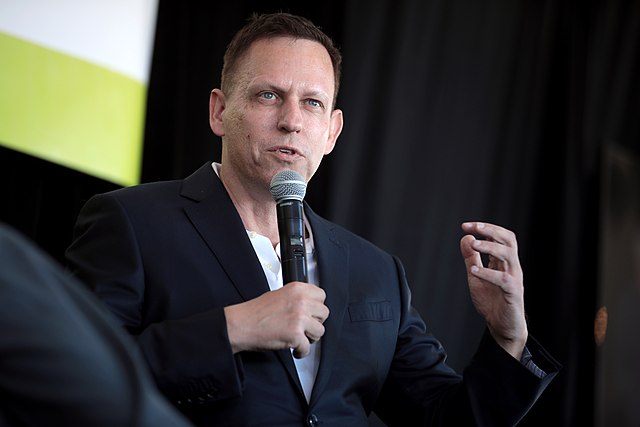 Chuck Johnson on Thursday outed tech billionaire Peter Thiel as FBI informant and alluded to him being "compromised" by Israel.


From Business Insider, "Exclusive: Tech billionaire Peter Thiel was an FBI informant":

In the summer of 2021, Insider has learned, [Peter] Thiel began providing information as a "confidential human source," or CHS, to Johnathan Buma, a Los Angeles-based FBI agent who specializes in investigating political corruption and foreign-influence campaigns.

Charles Johnson, a longtime associate of Thiel's and a notorious figure in the far-right movement that Thiel has subsidized for a decade, told Insider in a statement that he helped recruit the billionaire as an informant by introducing him to Buma.

A source with knowledge of Thiel's relationship to the FBI, whose identity is known to Insider but who insisted on anonymity, corroborated Johnson's account, telling Insider that Johnson brokered a relationship between Thiel and Buma. Insider was able to confirm through an additional source that the FBI added Thiel to its formal roster of registered informants.

Another source close to Thiel told Insider that while they could not confirm that Thiel was a CHS, Thiel did speak to Buma occasionally. The source said that any assistance Thiel might have provided to the FBI should be understood as part of Thiel's gradual distancing of himself from Trump and the broader MAGA movement, which has vigorously criticized the FBI and other federal law-enforcement agencies.

[...] Johnson, who said that he was also an informant for Buma, told Insider that he believes that Thiel's reporting to the FBI was largely limited to foreign contacts and attempts by foreign governments to penetrate Silicon Valley. Thiel has publicly called on the FBI to investigate Google's ties to the Chinese government.

Thiel, Johnson said, was directed by the FBI not to report on his interactions with Donald Trump or other US political figures.

[...] Buma came forward in August as a whistleblower, alleging that the FBI under Trump and Attorney General Bill Barr shut down his efforts to determine whether Rudy Giuliani had been compromised by a Russian asset. Insider was the first news organization to report on his claims.

In a statement prepared for the Senate Judiciary Committee, Buma said that FBI headquarters had closed his most valuable human sources, including one code-named "Genius," who had reported on far-right figures involved with planning the attack on the Capitol on January 6, 2021. Johnson told Insider that "Genius" was his CHS code name. Insider was able to confirm Johnson's identity as "Genius" with two additional sources. The statement does not mention Thiel.

In a written statement to Insider, Johnson said he was stepping forward as a CHS to support Buma's effort as a whistleblower to bring about what Buma believes to be necessary reforms in how the FBI handles informants. Johnson said that he was exposing Thiel's work as a CHS as retribution for what Johnson perceives to be bad decision-making by the Founders Fund, Thiel's venture-capital firm.

Johnson also told Insider he felt betrayed that Thiel did not invest in Johnson's own startups, which he had expected Thiel to do in exchange for introducing him to Buma. Johnson said that he told Thiel that by offering the FBI a window into his contacts with foreign governments, he could demonstrate his loyalty to the United States.
Thiel has government contracts so it's not entirely shocking, nonetheless he's a major "conservative" influencer who funds slightly edgy right-wing candidates like JD Vance and Blake Masters in addition to slightly edgy conservative media personalities (most of whom seem to be shilling for Israel right now).

Johnson addressed the BI piece in a post on Substack suggesting Thiel is compromised by Israel.




"So why did Peter buy the NXIVM property he gave to his lover? Israeli interesting isn't it?" Johnson commented.

I don't know whether anything he's saying is true but I do remember Thiel's talk at the RNC in 2016 encouraged Republicans to surrender on the culture war and completely missed the mark.



It reminds me of how Israel-First vulture capitalist Peter Singer dumped millions of dollars into the GOP to get them to surrender on gay marriage.

Johnson last week also claimed that he personally saw Ben Shapiro "receive tasking from Israeli intelligence connects to Netanyahu" when he worked next to him at Breitbart.


[Header image by Gage Skidmore, CC BY-SA 2.0]

Follow InformationLiberation on Twitter, Facebook, Gab, Minds and Telegram.