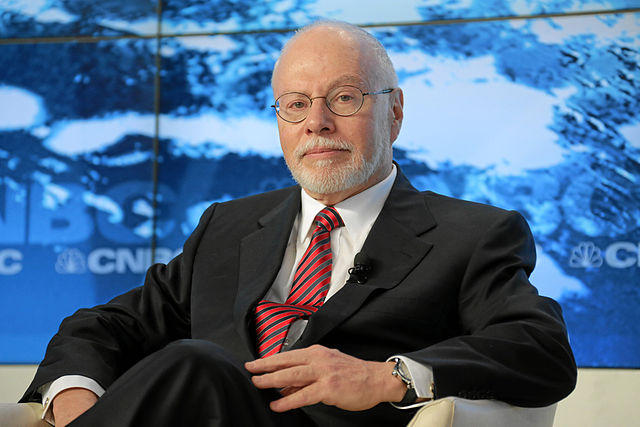 Vulture Capitalist Paul Singer, a major pro-Israel donor who pushed the GOP to embrace the LGBT agenda and funded the notorious Steele dossier, is reportedly buying up shares of Twitter stock in order to oust CEO Jack Dorsey.

From Bloomberg, "Singer's Elliott Seeks to Replace Twitter CEO Dorsey":

Activist investor Elliott Management Corp. has taken a sizable stake in Twitter Inc. and plans to push for changes at the social media company, including replacing Chief Executive Officer Jack Dorsey, according to people familiar with the matter.

The New York-based firm has nominated four directors to Twitter's board, said the people, who asked to not be identified because the matter isn't public.

There are only three seats becoming available at this year's annual meeting but Elliott wanted to ensure that it nominated enough directors to fill all three seats or any other vacancies that may arise, the people said. The exact size of Elliott's stake couldn't be determined.

Elliott approached San Francisco-based Twitter about its concerns privately and has had constructive discussions with it since then, the people said.
Though Twitter is terrible when it comes to censorship, it's the least bad of the big social media sites. A lot of people who are banned from Facebook for wrongthink are allowed to operate on Twitter relatively unimpeded. I guarantee Singer wants to change that for the worse.

Dorsey is pretty much just a normal guy from St Louis, Missouri. He seems to be the most conflicted on implementing mass censorship and at least was willing to engage with Tim Pool on Joe Rogan's show about the site's direction. As we saw with the organized banning of Alex Jones, he was the last one to submit to the mob and chose not to ban everyone involved in his operation.

Tucker Carlson exposed Singer's shady business practices (if you can even call them that) in a bombshell segment last year:



Paul Singer was also instrumental in getting the GOP to cave on gay marriage.

As the Wall Street Journal reported in 2012:

Since 2001, [Paul Singer] has donated more than $11 million toward legalizing gay marriage, a cause he took up after finding out his son was gay. "So many people, including stark conservatives, have family members and close friends who are gay," he said, adding that he also supports gay rights because "it's simply the right thing to do."

This has made him an unlikely hero at the Human Rights Campaign, a gay-rights advocacy group traditionally aligned with Democrats. Chad Griffin, the group's president, credits Mr. Singer with what he sees as the rising number of Republicans supporting gay marriage. The group is running an ad this week featuring prominent Republicans that support gay marriage—a result of Mr. Singer's advice that it should seek to be more inclusive.
"Singer, 71, is perhaps the party's most prodigious fundraiser, and his giving has been motivated primarily by two causes: protection of Israel and other Jewish causes, and support for the gay rights movement," CNN reported in 2015.

Singer bought off GOP politicians like Paul Ryan and the GOP caved on gay marriage and all social issues shortly thereafter.

Singer recently has aggressively been pushing the transfer of America's tech companies to Israel:



[Header image by the World Economic Forum, CC BY-NC-SA 2.0]

Follow InformationLiberation on Twitter, Facebook, Gab and Minds.