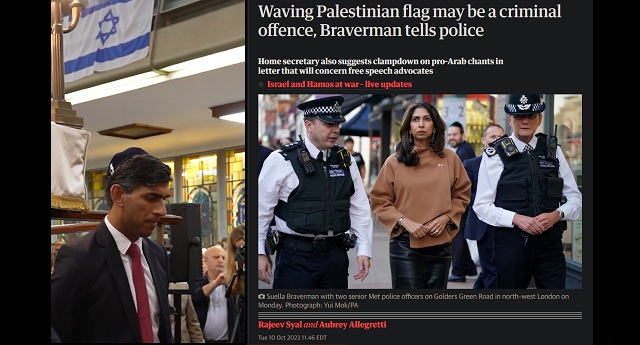 After UK Prime Minister Rishi Sunak on Monday visited a synagogue in London flying Israeli flags and pledged his unconditional support to Israel, his Home Secretary Suella Braverman on Tuesday told police that "waving a Palestinian flag or singing a chant advocating freedom for Arabs in the region may be a criminal offence."


From The Guardian, "Waving Palestinian flag may be a criminal offence, Braverman tells police":

Waving a Palestinian flag or singing a chant advocating freedom for Arabs in the region may be a criminal offence, Suella Braverman has told senior police officers.

In a letter to chief constables in England and Wales, the home secretary urged them to clamp down on any attempts to use flags, songs or swastikas to harass or intimidate members of the Jewish community.

Her words, which follow deadly attacks by Hamas on Israelis and a military response, will deeply concern freedom of speech advocates and members of the Muslim community.

In the letter, Braverman said police should not restrict themselves to potential offences related to the promotion of Hamas, a proscribed organisation.

"It is not just explicit pro-Hamas symbols and chants that are cause for concern. I would encourage police to consider whether chants such as: 'From the river to the sea, Palestine will be free' should be understood as an expression of a violent desire to see Israel erased from the world, and whether its use in certain contexts may amount to a racially aggravated section 5 public order offence.

"I would encourage police to give similar consideration to the presence of symbols such as swastikas at anti-Israel demonstrations. Context is crucial. Behaviours that are legitimate in some circumstances, for example the waving of a Palestinian flag, may not be legitimate such as when intended to glorify acts of terrorism.

"Nor is it acceptable to drive through Jewish neighbourhoods, or single out Jewish members of the public, to aggressively chant or wave pro-Palestinian symbols at. Where harassment is identified, I would encourage the police to take swift and appropriate enforcement action.

"I encourage all chief officers to ensure that any protests which could exacerbate community tensions by way of offensive placards, chants, or behaviours that could be construed as incitement or harassment, have a strong police presence to ensure perpetrators are appropriately dealt with, and that communities feel protected," she wrote. Home Office sources confirmed her words had been approved by government lawyers.

Decisions on arrests are an operational matter for the police, Braverman wrote. "However, I would urge you to ensure your forces use all available powers to prevent disorder and distress to our communities, and that your officers will act if there are any incidents that stray into criminality," she said.

[...] Braverman's letter was sent after Rishi Sunak vowed that anyone in the UK supporting Hamas would be "held to account" in the aftermath of the attack on Israel.
Rachel Riley, an ambassador with the Center for Countering Digital Hate (who Elon Musk/X is currently suing), warned Palestine supporters on Saturday that "expressing support" for Hamas is a crime under the UK's Terrorism Act which may get you 14 years in prison.



Of course, you can s**t on the British people and desecrate their flag all you like but don't you dare oppose Israel!

Follow InformationLiberation on Twitter, Facebook, Gab, Minds and Telegram.