Los Angeles Times Retracts Allegations of Hamas Rapes: 'Such Reports Have Not Been Substantiated'
Chris Menahan
InformationLiberation
Oct. 10, 2023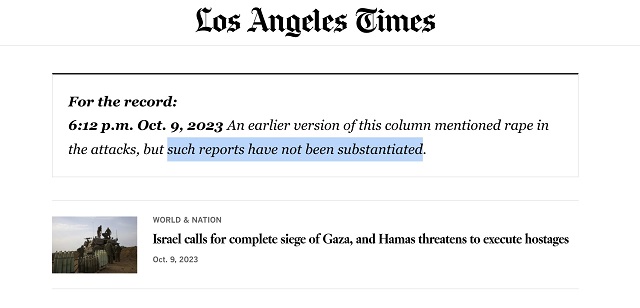 The Los Angeles Times has retracted a claim from columnist Jonah Goldberg that Hamas was raping women as part of their attacks, stating "for the record" that "such reports have not been substantiated."

"An earlier version of this column mentioned rape in the attacks [committed by Hamas], but such reports have not been substantiated," the LA Times said.


Though claims of mass rape were spread from the very start of the war, the only video evidence that's been produced to back up the rumors are one clip of a female captive with dirty pants and one clip of Shani Louk being hauled off in the back of a truck. The media falsely claimed Louk was stripped naked (even though she had a bikini top or bra and bottoms on) and raped (for which there's no evidence whatsoever) but Louk's mother said on Tuesday that her daughter is still alive and is in a hospital in Gaza.



Unsubstantiated claims of "mass rape" and "mass baby beheadings" are being used by Israel to justify their brutal "siege" on Gaza and drag America into the war.



As Keith Woods noted in a viral thread on Twitter, atrocity propaganda is being made in real time to win support for the war.




When Jonah Goldberg was the editor of National Review, he published lies smearing the Covington Catholic kids and condemning them as "evil" and also published paid advertorials attempting to revive Jeffrey Epstein's reputation in the wake of his conviction for soliciting a minor.


Follow InformationLiberation on Twitter, Facebook, Gab, Minds and Telegram.