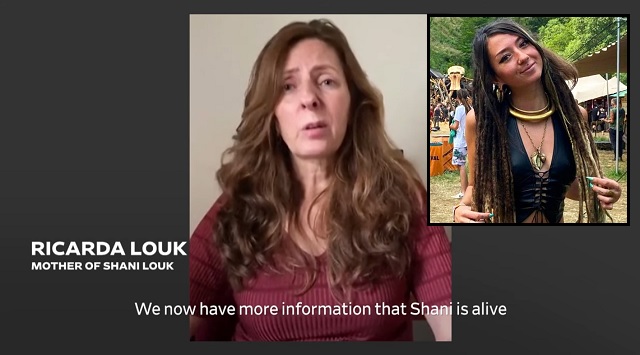 German-Israeli festival attendee Shani Louk is alive and receiving treatment in a hospital in Gaza but is in "critical condition" from a head injury, according to her mother Ricarda Louk.

WATCH:



From News Nation Now, "Mother of Shani Louk, taken by Hamas, says her daughter's alive":

The mother of a 22-year-old German woman who attended an Israeli music festival and is believed to be the woman seen in a viral video being paraded around Gaza by Hamas militants told NewsNation she has received reports that her daughter is alive and in a hospital.

Ricarda Louk, the mother of tattoo artist Shani Louk, who was kidnapped by Hamas, told NewsNation's Connell McShane she heard the news from a friend with a reliable source, and they passed the information along to authorities in both Israel and Germany.

"We have recently heard yesterday some reports from Gaza that she is alive and that she is in a hospital," Ricarda Louk said. "She's injured badly in the head but she's alive."

The family hasn't heard back from Germany or Israel about the possibility of a rescue for Shani Louk at the time of publication of this report. However, Ricarda Louk says she has a point of contact with the German government with whom she's been talking "day and night."

"They're very available, they centralize all the data," Ricarda Louk said.
If true, Israel's decision to cut off all power, food, water and fuel to Gaza may ultimately be what kills her.

The Middle East Eye reported on Sunday that hospitals in Gaza are on the verge of a blackout due to their power supplies being cut and backup generators running low on fuel:

Israel's energy minister, Israel Katz, said he ordered the state-run electricity company to cease supplying power to Gaza, leaving much of the region in the dark for the past 24 hours.

"I signed the order instructing the electric company to stop supplying electricity to the Gaza Strip. What was will no longer be," he said in a post on X, the social media platform formerly known as Twitter.

Hospital staff and medical personnel told MEE that they were relying on backup generators to maintain essential services, as medical facilities were inundated with Palestinians seeking news of their loved ones.

Ashraf al-Qedra, a spokesman for Gaza's health ministry, said several hospitals were relying on old and "dilapidated" generators which were leading to increased fuel consumption.

"The available fuel reserves are insufficient to sustain hospital operations for a long period of time," he told MEE.

"We are really concerned that the power generators may cease functioning at any given moment."
There's a reason collective punishment is banned under international law.

Follow InformationLiberation on Twitter, Facebook, Gab, Minds and Telegram.