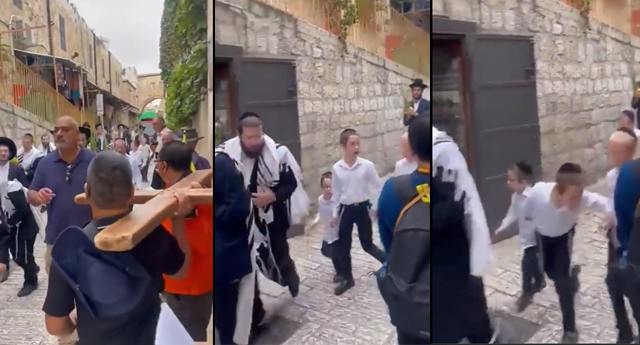 Israeli Jews and their children were filmed spitting on Christian pilgrims carrying a cross at Jerusalem's Lion Gate in video going viral on social media.

WATCH:


From The Middle East Eye, "Israel: Spitting on Christians in Jerusalem 'not criminal', says Ben Gvir":

Israelis were spotted spitting in the direction of Christians in occupied East Jerusalem again on Wednesday, days after similar attacks, defended by the national security minister as "not criminal", led to widespread condemnation.

According to Al Araby TV, the latest incidents targeted Christian clergy in the Old City, where thousands of Israelis are participating in marches marking the week-long Sukkot holiday.

Israeli police said it has detained at least four people involved in the spitting incidents. A fifth person was detained for suspected spitting at Christians on Monday.

However, Itamar Ben Gvir, Israel's national security minister, who oversees the police, said in an interview with Army Radio that spitting at Christians was "not a criminal case" and that not everything "justifies an arrest".

He said the incidents were "deserving of every condemnation" but urged people to "stop slandering Israel".

Ben Gvir had previously defended the act of spitting on Christians as "an ancient Jewish custom".


The claim was echoed on Tuesday by Israeli settler Elisha Yered, who is suspected of involvement in the killing of a Palestinian teenager in August.


Yered said on X, formerly known as Twitter, that "spitting near priests or churches is an ancient Jewish custom".

"Perhaps under the influence of Western culture we have somewhat forgotten what Christianity is, but I think the millions of Jews who suffered in exile from the Crusades, the torture of the [Spanish] Inquisition, blood libels and mass pogroms – will never forget," he added.

Some of those arrested on Wednesday were students of Rabbi Natan Rothman, who was leading a procession through the Old City, according to Israeli Channel 12.

He is the brother of far-right lawmaker Simcha Rothman, who was also participating in the procession.


The MP told Ynet news that the spitting acts were "worthy of condemnation" but were "blown out of proportion".

Pope Francis 'furious'

The arrests follow widespread outrage at footage shared earlier this week showing Israelis spitting on or near churches in Jerusalem.

Pope Francis is said to be "furious" over the incidents, according to Wadie Abu Nassar, adviser and former spokesperson of the Assembly of Catholic Ordinaries of the Holy Land.

The Palestinian foreign ministry said in a statement the repeated incidents of spitting on Christians reflect the Israeli occupation's "culture of hatred and racism".
Last month, a similar video went viral showing a mob of Israeli children kicking and cursing a group of Christian missionaries with their parents' full support.


Contrast how Israeli children are taught to treat Christians with how American children are taught to treat Jews:



Another video went viral in July showing a Catholic German abbot being ordered by an Israeli official to hide his cross while visiting the Western Wall in Jerusalem.


Christian leaders in the Holy Land spoke out earlier this year about how Christians are being viciously persecuted, attacked, spat on and abused in Israel under Benjamin Netanyahu's far-right regime with authorities doing little to nothing to hold their abusers to account.



Rather than condemn these disgusting attacks and pressure the Israeli government to bring them to an end, US Secretary of State Antony Blinken and US Homeland Security Secretary Alejandro Mayorkas rewarded Israel last week by welcoming their country into the Visa Waiver Program which allows their citizens to travel to America without a visa.


Follow InformationLiberation on Twitter, Facebook, Gab, Minds and Telegram.