Christians are being viciously persecuted, attacked, spat on and abused in Israel under Benjamin Netanyahu's far-right regime and authorities are doing little to nothing to hold their abusers to account, according to Christian leaders in the Holy Land.

Churches are being vandalized, statues of Jesus Christ smashed and Christian grave sites are being desecrated.






From AP, "Holy Land Christians say attacks rising in far-right Israel":

The head of the Roman Catholic Church in the Holy Land has warned in an interview that the rise of Prime Minister Benjamin Netanyahu's far-right government has made life worse for Christians in the birthplace of Christianity.

The influential Vatican-appointed Latin Patriarch, Pierbattista Pizzaballa, told The Associated Press that the region's 2,000-year-old Christian community has come under increasing attack, with the most right-wing government in Israel's history emboldening extremists who have harassed clergy and vandalized religious property at a quickening pace.

The uptick in anti-Christian incidents comes as the Israeli settler movement, galvanized by its allies in government, appears to have seized the moment to expand its enterprise in the contested capital.

"The frequency of these attacks, the aggressions, has become something new," Pizzaballa said during Easter week from his office, tucked in the limestone passageways of the Old City's Christian Quarter. "These people feel they are protected … that the cultural and political atmosphere now can justify, or tolerate, actions against Christians."

[...] Christians say they feel authorities don't protect their sites from targeted attacks. [...]

"The right-wing elements are out to Judaize the Old City and the other lands, and we feel nothing is holding them back now," said Father Don Binder, a pastor at St. George's Anglican Cathedral in Jerusalem. "Churches have been the major stumbling block."

[...] Now, 2023 is shaping up to be the worst year for Christians in a decade, according to Yusef Daher from the Inter-Church Center, a group that coordinates between the denominations.

Physical assaults and harassment of clergy often go unreported, the center said. It has documented at least seven serious cases of vandalism of church properties from January to mid-March — a sharp increase from six anti-Christian cases recorded in all of 2022. Church leaders blame Israeli extremists for most of the incidents, and say they fear an even greater surge.

"This escalation will bring more and more violence," Pizzaballa said. "It will create a situation that will be very difficult to correct."

In March, a pair of Israelis burst into the basilica beside the Garden of Gethsemane, where the Virgin Mary is said to have been buried. They pounced on a priest with a metal rod before being arrested.

In February, a religious American Jew yanked a 10-foot rendering of Christ from its pedestal and smashed it onto the floor, striking its face with a hammer a dozen times at the Church of the Flagellation on the Via Dolorosa, along which it's believed Jesus hauled his cross toward his crucifixion. "No idols in the holy city of Jerusalem!" he yelled.
Armenians found hateful graffiti on the walls of their convent. Priests of all denominations say they've been stalked, spat on and beaten during their walks to church. In January, religious Jews knocked over and vandalized 30 graves marked with stone crosses at a historic Christian cemetery in the city. Two teenagers were arrested and charged with causing damage and insulting religion.

But Christians allege that Israeli police haven't taken most attacks seriously. In one case, 25-year-old George Kahkejian said he was the one beaten, arrested and detained for 17 hours after a mob of Jewish settlers scaled his Armenian Christian convent to tear down its flag earlier this year. The police had no immediate comment.

"We see that most incidents in our quarter have gone unpunished," complained Father Aghan Gogchian, chancellor of the Armenian Patriarchate. He expressed disappointment with how authorities frequently insist cases of desecration and harassment hinge not on religious hatred but on mental illness.
From Al Jazeera, "'Death to Christians': Violence steps up under new Israeli gov't":

Nothing about the attack or what happened since surprised Miran Krikorian. The Armenian owner of Taboon and Wine Bar in the Old City of Jerusalem was not surprised to receive a call the night of January 26 that a mob of Israeli settlers was attacking his bar in the Christian Quarter and shouting "Death to Arabs ... Death to Christians."

It didn't surprise him how little effort the police made to catch the perpetrators; after some press about the attack and a lack of arrests, police told him two months later they detained three of the suspects among the mob. But they also asked for his surveillance video, despite the videos being already online and surveillance cameras omnipresent in the Old City.


"You have cameras over here that can show the underwear that someone is wearing, so how come you're asking for my footage two months later?" asked Krikorian.

It was easy for him to identify many of the perpetrators himself -- they went online and gave his restaurant a 1-star review minutes after the attack -- but when he went to the police station that night, the officer there scolded him: "Don't bother me too much."

A couple of days later, Armenians leaving a memorial service in the Armenian Quarter say they were attacked by Israeli settlers carrying sticks. An Armenian was pepper-sprayed as settlers scaled the walls of the Armenian convent, trying to take down its flag, which had a cross on it. When Armenians chased them away, the settlers began shouting: "Terrorist attack," prompting nearby border police to draw their guns on the Armenians, beating and detaining one of them.

"Instead of [the soldiers] calming or condemning [the settlers], I was looking into the eyes of the soldier and telling him to calm down," one of the attacked Armenian youth told Al Jazeera.

Hostility by fundamentalist Jews towards Jerusalem's Christian community is not new, and it is not just Armenian Christians who suffer from it. Priests of all denominations describe being spat at for years. Since 2005, Christian celebrations around Holy Week, particularly Holy Fire Saturday, have brought military barricades and harsh treatment from soldiers and settlers alike, with the number of worshippers allowed inside the Church of the Holy Sepulchre drastically limited, from as many as 11,000 historically during the Holy Fire ceremony to now 1,800 since last year, with authorities citing safety concerns.
Last month, two influential members of Israel's Knesset introduced a bill to outlaw teaching the Gospel of Jesus Christ in Israel and sentence violators to prison.



After widespread outrage, Netanyahu said they'd table the bill and one of the lawmakers who introduced it said they're not planning to move forward with the ban "at this stage."

Why isn't the US State Department under Antony Blinken writing up one of their dreaded "human rights reports" about Israel?

Blinken had no problem writing up a report attacking El Salvadoran President Nayib Bukele for undermining "democracy" by throwing MS-13 gang members in prison en masse but he has nothing to say about Israel's abuses against Christians?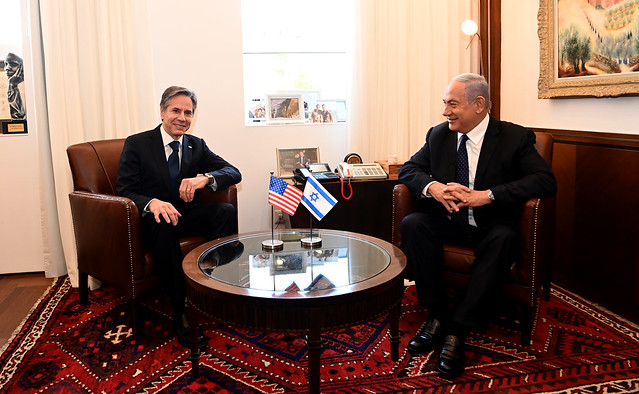 Follow InformationLiberation on Twitter, Facebook, Gab, Minds and Telegram.