Biden Regime Poised to Allow Israelis to Travel to U.S. Without Visa, Despite Escalating Human Rights Abuses
Chris Menahan
InformationLiberation
Sep. 25, 2023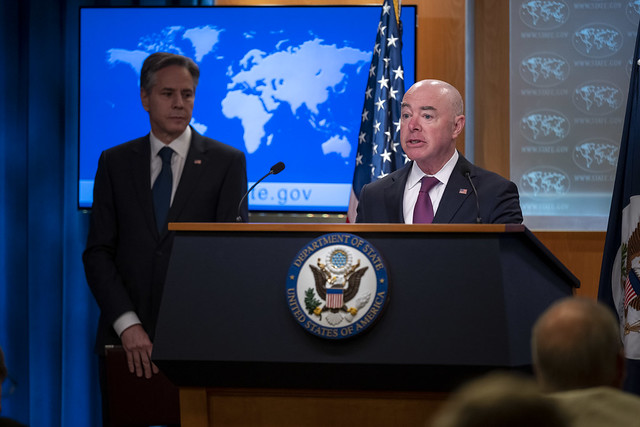 The Biden regime is poised to allow Israeli citizens to travel to the US without a US visa, despite Israel's escalating human rights abuses against Christians in the Holy Land and the expansion of settlements in the West Bank.

From AP News, "The Biden administration is poised to allow Israeli citizens to travel to the US without a US visa":

The Biden administration is poised to admit Israel this week into an exclusive club that will allow its citizens to travel to the United States without a U.S. visa despite Washington's ongoing concerns about the Israeli government's treatment of Palestinian Americans.

U.S. officials say an announcement of Israel's entry into the Visa Waiver Program is planned for late in the week, just before the end of the federal budget year on Saturday, which is the deadline for Israel's admission without having to requalify for eligibility next year.

The Department of Homeland Security administers the program, which currently allows citizens of 40 mostly European and Asian countries to travel to the U.S. for three months without visas.

Homeland Security Secretary Alejandro Mayorkas is set to make the announcement Thursday, shortly after receiving a recommendation from Secretary of State Antony Blinken that Israel be admitted, according to five officials familiar with the matter who spoke Sunday on condition of anonymity because the decision has not yet been publicly announced.
Christian leaders in the Holy Land spoke out earlier this year about how Christians are being viciously persecuted, attacked, spat on and abused in Israel under Benjamin Netanyahu's far-right regime with authorities doing little to nothing to hold their abusers to account.


Just two weeks ago, video went viral showing a mob of Israeli children kicking and cursing a group of Christian missionaries with their parents' full support.


Though Biden calls himself a Zionist, he's long touted his opposition to Israel expanding settlements in the West Bank as a show of independence.

Nonetheless, Netanyahu spit in his face earlier this year by approving a major expansion of new settlements in the West Bank.

Israel banned congresswomen Rashida Tlaib of Michigan and Ilhan Omar of Minnesota from entering their country in 2019 and bans US citizens from entering if they're supporters of the Boycott, Divest and Sanctions movement (BDS).

Israeli Foreign Minister Eli Cohen claimed Monday on Twitter/X that Israel's entry to the Visa Waiver Program is a done deal.

"Great news for the citizens of Israel ahead of the new year - as we promised, this coming November we will enter the visa exemption program for the USA," Cohen said. "Anyone who wishes can fill out a form online, pay $21 and receive an entry visa within 72 hours. This is a great achievement that testifies to the close relations between Israel and our great ally the USA. I thank US President Biden and Secretary of State Blinken for their support during the process, and especially the friends of the outgoing ambassador Tom Neides who promoted the issue here in Israel."

Follow InformationLiberation on Twitter, Facebook, Gab, Minds and Telegram.