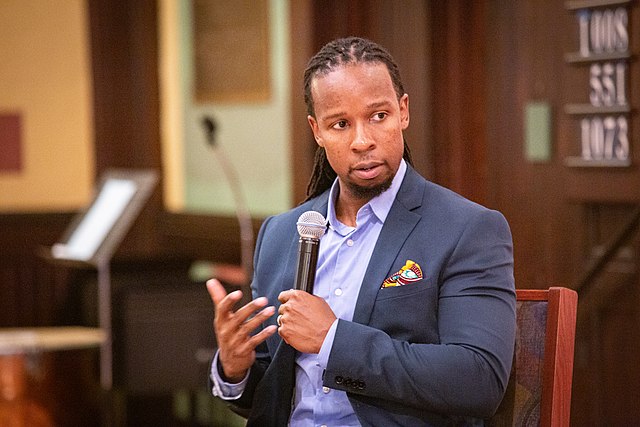 Black Lives Matter thought leader Ibram X Kendi appears to have essentially looted the $43 million in grants and gifts he was given to lead Boston University's "Center for Antiracist Research" in the wake of the "racial reckoning" of 2020.

From "Amid mass layoffs, BU Center for Antiracist Research accused of mismanagement of funds, disorganization":

Boston University hired Ibram X. Kendi to lead its new Center for Antiracist Research in 2020, a year marked by a global pandemic and nationwide racial tension.

Three years later, after at least $43 million in grants and gifts and what sources say has been an underwhelming output of research, the Center for Antiracist Research laid off almost all of its staff last week.

Multiple former staff members allege that a mismanagement of funds, high turnover rate and general disorganization have plagued the Center since its inception.

The $43 million, according to 2021 budget records obtained by The Daily Free Press, includes general support, such as the $10 million from Twitter co-founder Jack Dorsey, as well as donations for specific projects.

The document, which is not an all-inclusive list of donors, also lists TJ Maxx's foundation, Stop & Shop and Peloton as donating over a million dollars.

Kendi, National Book Award-winning author of "How to Be an Antiracist," Andrew W. Mellon Professor in the Humanities and a history professor at BU, founded the Center three years after he founded the Antiracist Research and Policy Center at American University.

Kendi talked to BU Today when BU's Center first launched in 2020.

"My hope is that it becomes a premier research center for researchers and for practitioners to really solve these intractable racial problems of our time," Kendi said to BU Today. "Not only will the center seek to make that level of impact, but also work to transform how racial research is done."

[...] The Compliance Services Office received an anonymous complaint in 2021 about the Center from Saida Grundy, an associate professor of sociology at BU and former CAR employee.

The complaint detailed multiple high-level employees leaving suddenly and allegations of a workplace culture that included fear of retaliation and discrimination.

After submitting the complaint, Grundy then personally went to then-Provost Jean Morrison in 2021 to discuss the alleged toxic work culture and grant mismanagement, among other significant concerns. Grundy said she sent a follow-up email after the meeting, and Morrison did not reply.

As Provost, Morrison was instrumental in Kendi's hiring, according to Grundy and BU Today.

"The pattern of amassing grants without any commitment to producing the research obligated to them continues to be standard operating procedure at CAR," Grundy wrote to Morrison. "This is not a matter of slow launch. To the best of my knowledge, there is no good faith commitment to fulfilling funded research projects at CAR."

Grundy said the Center ceased communication when her year-long contract came to an end in June 2021, which she said was retaliation for speaking up about the Center's underwhelming work and impact on campus.

[...] Phillipe Copeland, a clinical associate professor in the School of Social Work and former assistant director of the Narrative office at CAR, spent two years developing educational programming for the Center. He left his role in June.

"The narrative that seems to be coming from CAR and from BU is that this is some innovative, organizational pivot or redesign rather than an institutional failure, for which people need to be accountable," he said before the inquiry was launched. "There needs to actually be an explanation to people who invested time and energy in the Center."

[...] "It does damage to this area of work because there are already people out there that are trying to discredit antiracism," Copeland said. "To have such a high-profile person be associated with leading an organization that fails so spectacularly, that has a ripple effect."
Real anti-racism has never been tried!

A CAR manager, who requested to remain anonymous, was laid off on Sept. 13. In several Zoom meetings, groups of four to five employees were let go in each meeting. The manager described the layoffs as "rehearsed."

"We felt disposable," they said before the inquiry announcement. "I'm surprised that there's still no official statement. Actually, it adds to the disrespect, in my opinion, almost as if it can be kept under wraps."

They said much of the work at the Center was being postponed until Kendi, who was on leave as of July 31, returned to work. His return to work coincided with the layoffs to make room for "CAR 2.0," according to emails obtained by The Daily Free Press.
Sounds like Kendi is rightly getting paid to rest!

"Anti-racist research" is hard work and requires months (if not years) of recuperation!

Former staff members said the Center appeared to prioritize fundraising and revenue over research.

"If something was not sufficiently revenue-producing, then it wasn't for CAR's time," Copeland said.
That's called getting much-needed reparations, sir.

Spencer Piston, an associate professor of political science, who works as the faculty lead in the Policy office at the Center, said the layoffs are surprising given that the new fellowship model "will involve hiring new people." He said he is unsure if his job is secure at the Center.

"It's pretty hard for me to imagine they blew through $30 million in two years," Piston said. "There's been a lack of transparency about how much money comes in and how it's spent from the beginning, which comports with a larger culture of secrecy."
Sounds like something a racist would say!

"There's a mismatch between the amount of money that CAR has received from these grants and what they've actually produced," [a former CAR employee who asked to remain anonymous] said. "You can juxtapose that with other research centers either at BU or other universities that have received a tiny fraction of what CAR has received and has produced a lot more."
They only produced more because they have more privilege, racist!

The COVID Racial Data Tracker, a collaboration with The Atlantic that started during Kendi's time at AU, is the Racial Data Lab's sole project, according to CAR's website. The tracker stopped collecting data a year later in March of 2021.

The Racial Data Lab only includes the now-defunct tracker.

"The Center has very, very much failed to deliver on its promise. It's been a colossal waste of millions of dollars," said Piston, noting that individual staff members did make progress on specific projects while facing high turnover and lack of support from management.

[...] [BU spokesperson Colin Riley] said a previous examination of the Center's grant management practices will continue while new information comes to light about the Center's culture.

"We recognize the importance of Dr. Kendi's work and the significant impact it has had on antiracist thinking and policy," Riley said.

Now, amid BU's inquiry, Piston calls for accountability.

"We complained in writing years ago to the Provost, who did not even bother to respond to us," Piston wrote in a statement. "A more appropriate response would be to remove Dr. Kendi from the directorship and hand governance over to the fired staff, who have been working intensely with deep commitment to the cause of racial justice."
This is "racial justice," buddy.

BLM co-founder Patricia Cullors got her mansions, Kendi gets his millions and BLM supporters get to loot their local shopping malls and big-box stores every week!

I applaud Kendi for (allegedly) "looting" these suckas!

This is the future you chose!

[Header image by Tony Turner Photography/Montclair Film via Flickr, CC BY-SA 2.0]

Follow InformationLiberation on Twitter, Facebook, Gab, Minds and Telegram.