Flash Looting Extravaganza: 'Coordinated Groups of Individuals' Hit Stores Throughout The U.S.
Chris Menahan
InformationLiberation
Aug. 14, 2023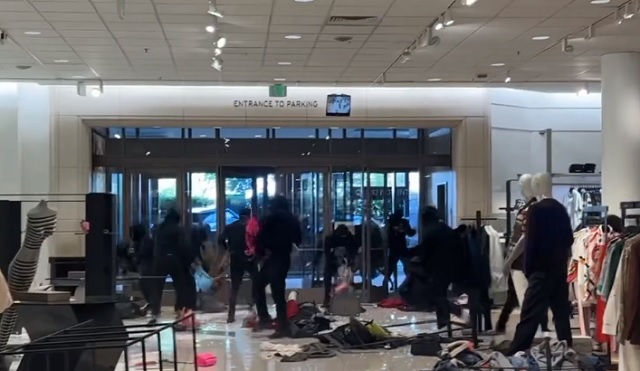 "Coordinated groups of individuals" were once again filmed flash looting stores (aka collecting reparations) throughout America over the weekend.





From CNN, " 'Mob of criminals' stole up to $100k worth of merchandise at Los Angeles mall, police say":

A "mob of criminals" stole up to $100,000 worth of merchandise from the Westfield Topanga Shopping Center in Los Angeles Saturday afternoon.

"Today at around 4 p.m., a mob of criminals stole items from the Topanga Mall with an estimated loss of $60,000 to $100,000," the Los Angeles Police Department said on social media. "Topanga Division officers were on the scene quickly and have several investigative leads. To criminals, it is just property taken."

Multiple individuals wearing black from head to toe could be seen ransacking a store at the mall, carrying duffel bags, purses and other items past the broken glass on the floor, in a video posted by the police department.

[...] A similar scene unfolded Tuesday in nearby Glendale, where police said thieves stole $300,000 worth of property in a "bold, flash mob burglary" at an Yves Saint Laurent store.

"These 'flash mob' burglaries involve a large, coordinated group of individuals simultaneously rushing into the store, overwhelming staff, and taking it over. The suspects grab as much merchandise as possible before fleeing in multiple vehicles," the Glendale Police Department said in a statement.
"Individuals" in Chicago used (what turned out to be false) reports of an active shooter at a Lil Durk concert as an opportunity to loot.


"Individuals" in Missouri were filmed attacking an elderly Walgreens employee for "asking them to pay" for the products they stole.


A sunglasses shop was also looted last week in San Francisco:


In New York, another video from a week ago shows a security guard trying to stop an "individual" from looting.


Video went viral on TikTok over the weekend showing all the shops that have closed in San Francisco in the wake of the George Floyd riots:


Most of these companies endorsed BLM during the 2020 riots.

"This is the future you chose."

Follow InformationLiberation on Twitter, Facebook, Gab, Minds and Telegram.