Hunter Biden Indicted on Federal Charges for Claiming He Was Not a Drug User on Gun Form
Chris Menahan
InformationLiberation
Sep. 14, 2023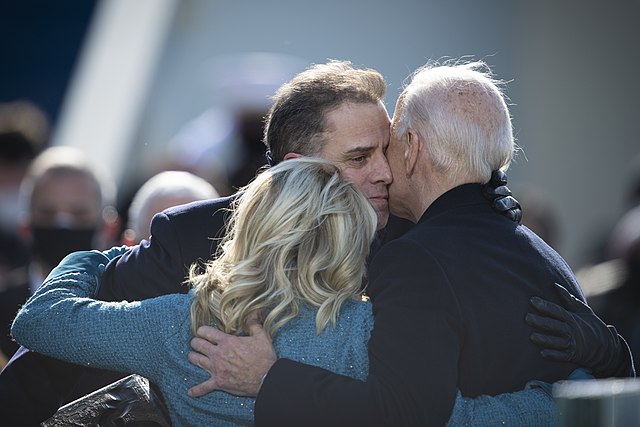 Hunter Biden is being offered up as a sacrificial lamb by the feds to feign impartiality in their witch hunt against Donald Trump and his supporters.


From NBC News, "Hunter Biden indicted on federal gun charges":

Federal prosecutors have indicted Hunter Biden, son of President Joe Biden, on gun charges, court documents show.

Biden was indicted Thursday in Delaware federal court on three counts tied to the possession of a gun while using narcotics.

Two counts are tied to Biden allegedly completing a form indicating he was not using illegal drugs when he purchased a Colt Cobra revolver in October 2018. The third count alleges that he possessed a firearm while using a narcotic. The indictment says Biden certified on a federally mandated form "that he was not an unlawful user of, and addicted to, any stimulant, narcotic drug, and any other controlled substance, when in fact, as he knew, that statement was false and fictitious."

Two of the counts carry a maximum prison sentence of 10 years, while the third has a maximum of five years. Each count also carries a maximum fine of $250,000.
This incident happened five years ago and was going to be pled down but feds changed course due to their bias being so blatant.

The influence peddling payments he got from Burisma are far more scandalous but nothing is happening on that front.

Republicans are now supposed to be thrilled that the president's son -- who has no power whatsoever -- is being punished for some minor lie while Trump faces potentially life in prison from four indictments and over one thousand Trump supporters were charged in relation to J6 -- with multiple getting decades in prison on bogus "seditious conspiracy" charges.

"This, the gun charge, is the only crime that Hunter Biden committed that does not implicate Crooked Joe Biden," Trump said Thursday on Truth Social. "One down, Eleven to go! The Democrats, with all of their horrible, very unfair, and mostly illegal Witch Hunts, have started a process that is very dangerous for our Country. They have opened the proverbial Pandora's Box, and it is possible that the USA will never be the same again. SO SAD!!!"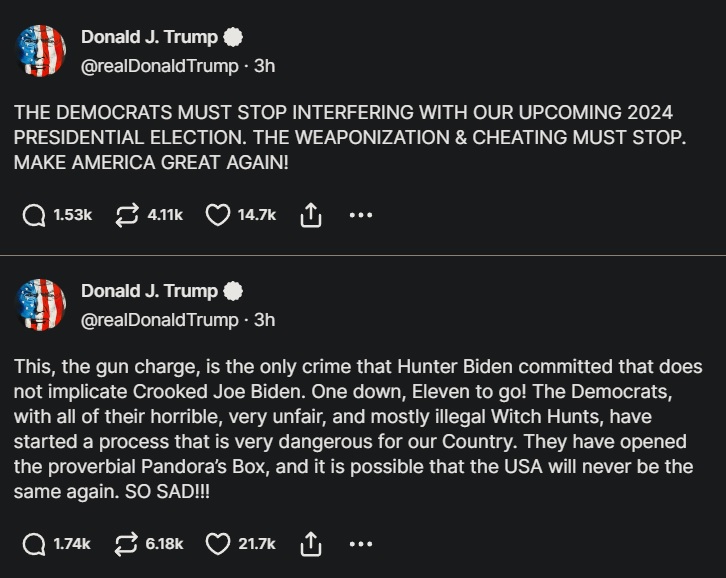 Follow InformationLiberation on Twitter, Facebook, Gab, Minds and Telegram.