Infowars' Owen Shroyer Gets 60 Days in Prison for 'Amping Up' Crowd With Patriotic Speech On J6
Chris Menahan
InformationLiberation
Sep. 13, 2023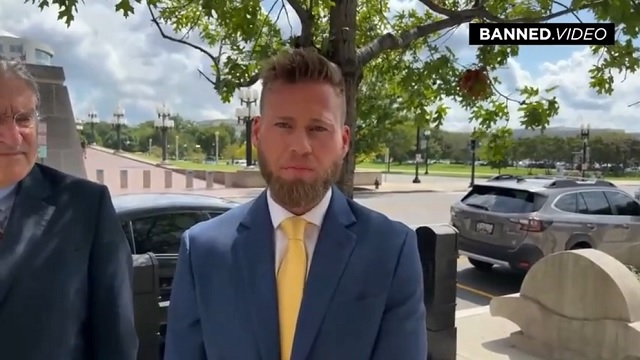 Infowars host Owen Shroyer, who did not enter the Capitol building on Jan 6, was sentenced to 60 days in prison on Tuesday for allegedly "amping up" the crowd with a bullhorn while delivering a patriotic speech.



From Politico, "Owen Shroyer, InfoWars host and colleague of Alex Jones, gets 60 days for Jan. 6 misdemeanor":

A judge on Tuesday sentenced InfoWars broadcaster Owen Shroyer — who shadowed his boss and ally Alex Jones onto Capitol grounds on Jan. 6, 2021 — to 60 days in prison for breaching the restricted area.

U.S. District Judge Tim Kelly handed down the sentence after contending that Shroyer, who never entered the Capitol building, played a role in "amping up" the mob at a sensitive moment during the riot. Shroyer's foray onto Capitol grounds came even though Shroyer had been ordered to stay away from the area under a court-sanctioned agreement for disrupting a House impeachment hearing in 2019.

The sentence — half of the Justice Department's call for 120 days in prison — closes a chapter in what all sides agreed was a "unique" prosecution stemming from the mob attack on the Capitol. Shroyer was facing only misdemeanor charges for his conduct that day and pleaded guilty to breaching restricted Capitol grounds earlier this year.

[...] Shroyer pointed out that prosecutors, in seeking his 120-day jail term, focused heavily on his comments in the lead-up to Jan. 6 and his chants of "1776" on the day of the riot. He contended that he was in Washington in his capacity as an opinion journalist for InfoWars. In remarks to Kelly, Shroyer also argued that when he exhorted the crowd that day, he was trying to capture their attention so he could assist Jones in trying to redirect the mob away from the Capitol.

Kelly rejected that contention, saying his review of the video of Shroyer's actions did not appear to show Shroyer making an attempt to play a deescalating role.
Police have no obligation to protect the public by stopping a crime that's happening right in front of them but Owen was obligated to "deescalate" an overwhelmingly peaceful crowd on J6 lest they enter "The People's House" and walk around for a few minutes before leaving.

Judge Kelly is truly a disgrace.

GOP presidential contender Vivek Ramaswamy spoke out in Shroyer's defense on Wednesday and said he will pardon him and "all non-violent Jan 6 protesters and political prisoners" on "Day 1" if he wins the presidency.


"Yesterday a man by the name of Owen Shroyer was sentenced to prison for *speech*, not violence, on Jan 6 – for marching around the Capitol, using a bull horn, & shouting things like '1776!'" Ramaswamy said.

"No violence. Didn't enter the Capitol. That's it. I don't know the guy & I have no idea if he's 'a good person' or not, but that's not what our justice system is supposed to determine," he continued. "There is no greater threat to the First Amendment than the use of police power to silence political dissent. On Day 1, I will pardon all non-violent Jan 6 protesters & political prisoners. The DOJ used 'evidence' provided by the FBI to pursue this man and countless others."

Follow InformationLiberation on Twitter, Facebook, Gab, Minds and Telegram.