Nikki Haley Slams Vivek Ramaswamy For Proposing Cutting Aid to Israel in 2028
Chris Menahan
InformationLiberation
Aug. 21, 2023


GOP presidential hopeful Nimrata "Nikki Haley" Randhawa threw a fit on Monday over fellow Republican presidential candidate Vivek Ramaswamy's proposal to cut aid to Israel in 2028.

"Vivek Ramaswamy is completely wrong to call for ending America's special bond with Israel," Randhawa whined on Twitter. "Supporting Israel is both the morally right & strategically smart thing to do."

"This is part of a pattern with Vivek—his foreign policies have a common theme: they make America less safe," she added.


From The Hill:

Ramaswamy said late last week in an interview on the Rumble show "Stay Free with Russell Brand" that he wanted to expand the Abraham Accords, in which Israel normalized relations with a few of its Arab neighbors, so that additional aid for Israel "won't be necessary" by 2028, when a current package is set to expire.

Ramaswamy said during the interview that he thinks the U.S.-Israel relationship has been in the country's interests, and he believes in abiding by commitments that the U.S. has already made, but he wants Israel to be more incorporated into the rest of the Middle East region.

He said he wants to negotiate an "Abraham Accords 2.0" to include countries such as Saudi Arabia, Oman, Qatar and Indonesia to "get Israel on its own two feet."

The original accords included the United Arab Emirates and Bahrain, with Sudan and Morocco following soon after.

"I want to get Israel to the place where it is negotiated back into the infrastructure of the rest of the Middle East. We should not be worried about holding one nation or one region hostage over one particular question relating to Palestine," Ramaswamy said.

He argued that expanding the accords is "good for us such that come 2028 that additional aid won't be necessary in order to still have the kind of stability that we'd actually have in the Middle East by having Israel more integrated in with its partners."
VIDEO:



Other neocon shills like Mark Levin and Adam Kinzinger also threw a fit over Ramaswamy's proposal.



"The centerpiece of my Middle East policy in Year 1 will be to consummate 'Abraham Accords 2.0' which will be good for the U.S. and good for Israel," Ramaswamy told Levin after facing pushback. "If we can lead the way in helping Israel fully integrate into the economic and security infrastructure of the Middle East via Abraham Accords 2.0, it is better for everyone if Israel is truly able to stand on its own feet with support from partners across the Middle East that we diplomatically bring to the table. We will not leave Israel hanging out to dry - ever."


The Abraham Accords consisted of bribing Arab kings to normalize relations with Israel by offering them billions of US taxpayer dollars and high-tech weaponry to oppress their own populations.

Nonetheless, Ramaswamy's "Abraham Accords 2.0" is not going to fly because our "special relationship" requires us to give Israel endless billions for all eternity.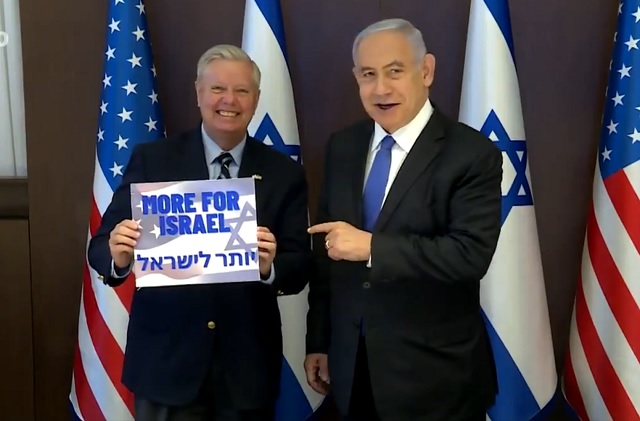 As Nancy Pelosi told pro-Israel billionaire and top Democratic donor Haim Saban at the 2018 Israeli American Council National Conference, America's "commitment to our aid" to Israel must remain even if our "Capitol crumbled to the ground."


If you don't think the US is benefiting from this "special relationship," then you may have to be drugged with ecstasy to be "cured" of your "hateful" and "anti-Semitic" beliefs.

Follow InformationLiberation on Twitter, Facebook, Gab, Minds and Telegram.