McDonald's Looted During Juneteenth Celebrations at Leimert Park in Los Angeles
Chris Menahan
InformationLiberation
Jun. 20, 2023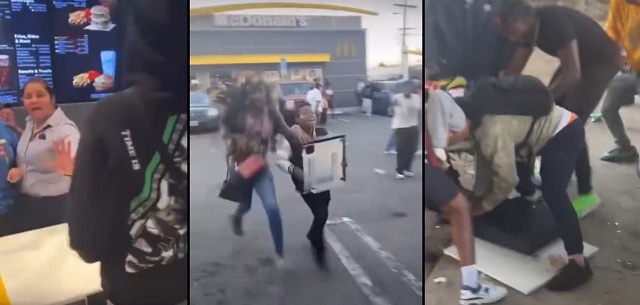 A large group of "rowdy teens" were filmed looting and smashing up a McDonald's at Leimert Park in Los Angeles during Juneteenth celebrations on Monday.




A stampede was also triggered during the nearby Juneteenth music festival in Leirmert Park over false fears a shooting had broken out.




The Juneteenth Festival was canceled immediately thereafter.

From FOX LA, "Group of looters take cash register from McDonald's in Leimert Park":

The search is on for a group of rowdy teens who trashed a McDonald's restaurant in Leimert Park.

Juneteenth in Leimert Park was supposed to be a day of fun and unity – and for the most part, it absolutely was.

But blocks away from the peaceful festivities, a McDonald's franchise got hit by a group of young people going inside and trashing the place. In a cell phone video, screaming and yelling can be heard in the McDonald's near West 43rd Street and Crenshaw Boulevard as the raucous suspects rip the cash register out of the machine. In another video, a young suspect is seen walking out of the restaurant with the cash register.

In a video shared to social media, a teen smashes the cash register into the ground and the group of looters started grabbing money.
FOX LA said only one teen was placed in custody in connection to the incident.

As I reported on Monday, this year's Juneteenth celebrations (like every year's Juneteenth celebrations) were marked by mass shootings throughout the country which left dozens injured and multiple dead.

Community activist Morris "Big Money Griff" Griffin told the California Reparations Task Force earlier this year that the only way to stop black youth from looting was "reparations."


"There's only one thing that would stop our children from busting into these liquor stores, there's only one thing that would stop our kids from busting into these jewelry stores, stealing watches and jewelry, and that's reparations," Big Money Griff said.

Follow InformationLiberation on Twitter, Facebook, Gab, Minds and Telegram.