Biden DOJ Drops Campaign Finance Charges Against Sam Bankman-Fried
Chris Menahan
InformationLiberation
Jul. 27, 2023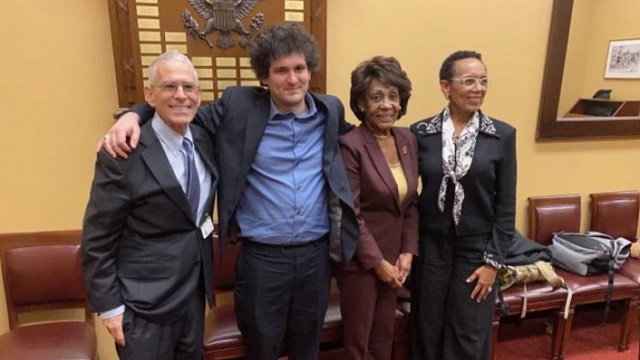 The fix is in.



From New York Times, "Prosecutors Drop Campaign Finance Charge Against Sam Bankman-Fried":

Federal prosecutors pursuing the criminal case against the cryptocurrency mogul Sam Bankman-Fried said on Wednesday that they were dropping a charge that he violated campaign finance rules.

Mr. Bankman-Fried was charged with fraud and campaign finance violations in December after the sudden collapse of his company, the cryptocurrency exchange FTX. He was quickly extradited to the United States from the Bahamas, where FTX was based.

But in a court filing on Wednesday night, the prosecutors said the Bahamas had informed them that the nation's government had not intended to extradite Mr. Bankman-Fried on the campaign finance charge.

"In keeping with its treaty obligations to the Bahamas, the government does not intend to proceed to trial on the campaign contributions count," the prosecutors' filing said.

The authorities have said Mr. Bankman-Fried and others at FTX used customer deposits to make $90 million in campaign contributions to some 300 political candidates or political action committees. Months ago, prosecutors and bankruptcy lawyers for FTX began asking recipients of those donations to return them.

A spokesman for Mr. Bankman-Fried declined to comment. A spokesman for the U.S. attorney's office in the Southern District of New York, which is prosecuting the case, did not respond to a request for comment.

In total, Mr. Bankman-Fried is now set to face seven charges at his trial in October, including accusations that he defrauded customers and lenders of FTX. Prosecutors have argued that he orchestrated a sweeping fraud, siphoning billions of dollars that customers had deposited with FTX to finance campaign contributions, charitable donations and real estate purchases.

Prosecutors are planning a second trial on the five charges that were withdrawn in June, including an accusation that Mr. Bankman-Fried bribed a foreign government. They said they had to postpone a trial on those counts while litigation over the extradition unfolded in the Bahamas.
Last year, Bankman-Fried tried to escape charges by claiming he's a victim of anti-Semitism.

I guess Attorney General Merrick Garland heard his cries.


As a reminder, Max Berger investigated Bankman-Fried's donations earlier this year and noticed how they just so happened to align with AIPAC and a powerful cadre of pro-Israel megadonors.

Follow InformationLiberation on Twitter, Facebook, Gab, Minds and Telegram.