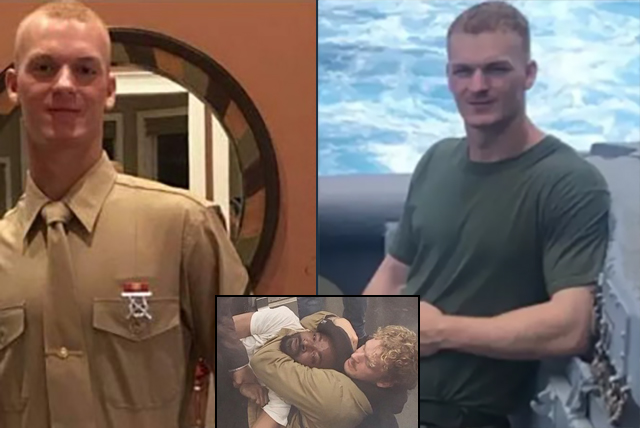 Daniel Penny, the decorated Marine veteran who was indicted by Manhattan District Attorney Alvin Bragg last week for subduing violent schizophrenic child kidnapper Jordan Neely while on a subway in New York City, has raised over $2 million for his legal defense on GiveSendGo.





"Daniel Penny is a twenty-four-year-old college student and decorated Marine veteran, facing a criminal investigation stemming from him protecting individuals on a NYC subway train from an assailant who later died," Penny's GiveSendGo says. "Funds are being raised to pay Mr. Penny's legal fees incurred from any criminal charges filed and any future civil lawsuits that may arise, as well as expenses related to his defense. All contributions are greatly appreciated. Any proceeds collected which exceed those necessary to cover Mr. Penny's legal defense will be donated to a mental health advocacy program in New York City. All funds will be sent to and managed by the law offices of Raiser & Kenniff, P.C."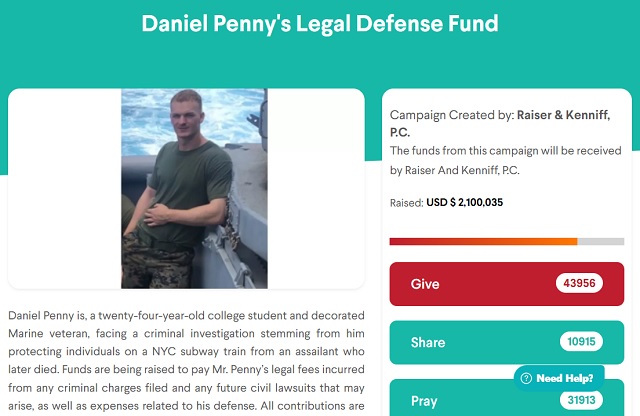 GiveSendGo said their site temporarily crashed on Saturday because Penny's campaign was getting so much traffic.


Though Penny was initially released by police as it was clear he did nothing wrong, he was indicted by corrupt Manhattan District Attorney Alvin Bragg and charged with manslaughter last week after Democrats and BLM activists demanded his head on a platter.


Penny voluntarily turned himself in and Bragg had him perp walked for the media like a common criminal.


Though Penny is being hit with the full force of the law, Jordan Neely was effectively shielded from prison despite 42 arrests because he was on a secret New York City "top 50" list of homeless people in need of "assistance and treatment" from social workers (as opposed to police), according to The New York Times.

The New York Daily News detailed Neely's lengthy criminal record last week:

Neely was arrested 42 times across the last decade, with his most recent bust in November 2021 for slugging a 67-year-old female stranger in the face as she exited a subway station in the East Village, cops said.

The senior citizen suffered a broken nose and fractured orbital bone when she was knocked to the sidewalk, along with swelling and "substantial" head pain after hitting the ground.

Neely eventually pleaded to felony assault and received 15 months in an alternative-to-incarceration program that, if completed, would have allowed him to plead to misdemeanor assault and get a conditional discharge.

But a warrant was issued for his arrest on Feb. 23, when he skipped a court compliance court date where a judge was to be updated on whether he was meeting all the requirements of the program.

On June 27, 2019, Neely was arrested for punching a 64-year-old man in the face during a fight in a Greenwich Village subway station, cops said.

And he was busted in August 2015 for attempted kidnapping after he was seen dragging a 7-year-old girl down an Inwood street. He pled guilty to endangering the welfare of a child and was sentenced to four months in jail.

Most of his other arrests were for low-level crimes, many of them for turnstile jumping.
Neely was cleansed of all his sins the moment he allegedly died at the hands of a white person.

Follow InformationLiberation on Twitter, Facebook, Gab, Minds and Telegram.