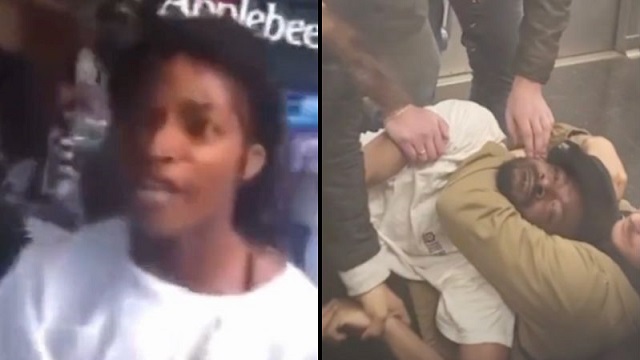 Violent schizophrenic and attempted child kidnapper Jordan Neely was on a secret New York City "top 50" list of homeless people in need of "assistance and treatment" from social workers (as opposed to police), according to The New York Times.

From The New York Times:

[Jordan Neely] was well known for years to the social work teams that reach out to homeless people on the subways, and had hundreds of encounters with them, according to an employee of the Bowery Residents' Committee, a nonprofit organization that does subway outreach for the city.

Mr. Neely was on what outreach workers refer to as the "Top 50" list -- a roster maintained by the city of the homeless people living on the street whom officials consider most urgently in need of assistance and treatment. He was taken to hospitals numerous times, both voluntarily and involuntarily, said the employee, who spoke anonymously because they were not authorized to discuss his history.

Mr. Neely racked up more than three dozen arrests. Many were of the sort that people living on the street often accrue while homeless, like turnstile-jumping or trespassing. But at least four were on charges of punching people, two of them in the subway system.

Outreach workers noted that Mr. Neely heavily used K2, the powerful, unpredictable synthetic marijuana. In June 2019, an outreach worker noticed that Mr. Neely had lost considerable weight and was sleeping upright. Around that time, he was reported to have banged on a booth agent's door and threatened to kill her, according to the worker's notes. Then he was gone.

At some point, Mr. Neely became a client of an Intensive Mobile Treatment team -- one of the squads of mental health clinicians who minister to people in streets and shelters. In March 2020, the team had Mr. Neely taken to Bellevue Hospital, where he was kept for a week, according to homeless-outreach records. It was not clear what contact the team had with him after that.

In November 2021, Mr. Neely's aggression seemed to peak, when he punched a 67-year-old woman in the street on the Lower East Side, the police said. The woman suffered severe facial injuries, including a broken nose, according to court documents. He was charged with assault and, awaiting the resolution of his case, spent 15 months in jail, the police said, though his family said the stint was shorter.

He pleaded guilty on Feb. 9 of this year, in a carefully planned strategy between the city and his lawyers to allow him to get treatment and stay out of prison.

"Do you know what the goal is today?" the judge, Ellen M. Biben, asked at the hearing.

"Yes," Mr. Neely replied.

"What is that goal?"

"To make it physically and mentally to the program."

He was to go from court to live at a treatment facility in the Bronx, and stay clean for 15 months. In return, his felony conviction would be reduced. He promised to take his medication and to avoid drugs, and not to leave the facility without permission.

"This is a wonderful opportunity to turn things around, and we're glad to give it to you," Mary Weisgerber, a prosecutor, said.

"Thank you so much," Mr. Neely replied.

But just 13 days later, he abandoned the facility. Judge Biben issued a warrant for his arrest.

In March, an outreach worker saw him in the subway, neatly dressed, calm and subdued, and got him a ride to a shelter in the Bronx. (The outreach workers typically do not check for arrest warrants when interacting with homeless people.) But a downward spiral followed.

On April 8, when outreach workers approached him in a subway car at the end of the line in Coney Island, Mr. Neely urinated in front of them. When an outreach worker went to call the police, according to a worker's notes, Mr. Neely shouted, "Just wait until they get here, I got something for you, just wait and see."

Officers arrived and ejected Mr. Neely from the train, apparently unaware of the arrest warrant.

The following week, an outreach worker saw him in Coney Island and noted that he was aggressive and incoherent. "He could be a harm to others or himself if left untreated," the worker wrote.

Two weeks later, he was riding an F train in SoHo for what would be the last time.
It was the last time because he threatened the other passengers on the train (a tightly enclosed space) and US marine Daniel Penny stepped up where police and the city had failed by detaining him in order to protect everyone else onboard.

"I don't mind going to jail and getting life in prison," freelance journalist Juan Alberto Vazquez, who shot the video, recalled Neely saying. "I'm ready to die."


Penny's lawyers said in a statement that he "never intended to harm Mr. Neely and could not have foreseen his untimely death."

Had the city simply put Neely in prison or a mental institution where he belonged the incident never would have happened and the men and women Neely assaulted and the 7-year-old girl he attempted to kidnap would have been unharmed.

Follow InformationLiberation on Twitter, Facebook, Gab, Minds and Telegram.