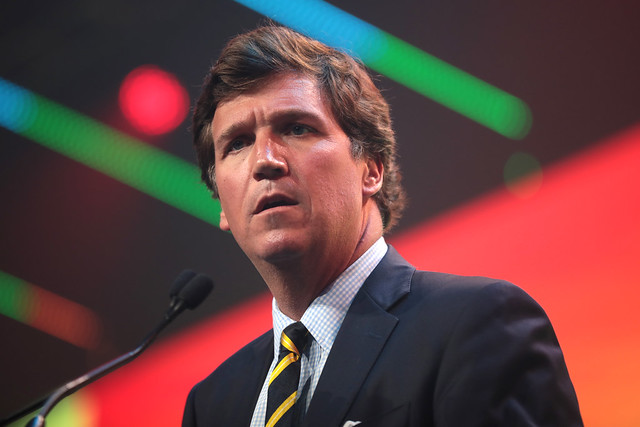 Fox News announced Monday that Tucker Carlson, their top-rated TV host, has "agreed to part ways" with the network.

"The last edition of "Tucker Carlson Tonight" aired on Friday, April 21," Fox News said in a statement.


From Fox News, "FOX News Media, Tucker Carlson part ways":

FOX News Media and Tucker Carlson have agreed to part ways, the network announced on Monday.

"We thank him for his service to the network as a host and prior to that as a contributor," a FOX News Media spokesperson said in a statement.

An interim program, "Fox News Tonight," will air at 8 p.m. ET until a permanent replacement for Carlson is named. "Fox News Tonight" will be hosted by a rotation of various Fox News personalities.
The bombshell shakeup comes just days after Fox News agreed to pay a jaw-dropping $787.5 million settlement with Dominion Voting Systems over voter fraud claims made on the network.

Fox News is facing another similar lawsuit from Smartmatic, who are asking for a comically large $2.7 billion in damages.


Though Carlson's show had gone off the rails over the past year with nonstop shilling for war with China and Carlson made a lot of really stupid comments during appearances on random podcasts on YouTube, his show was still the only half-way decent show on Fox News and the only reason to ever turn into the network.

That said, Carlson was undoubtedly afforded some sort of "truth privilege" as the number one primetime show on the network which allowed him to speak more truth and shill less than other hosts on the network in order to maintain an audience and draw in new viewers.

Whoever they replace him with will likely be afforded that same privilege in order to draw an audience in for the other propaganda the Murdoch's want to shove down everyone's throats.

[Header image by Gage Skidmore, CC BY-SA 2.0.]

Follow InformationLiberation on Twitter, Facebook, Gab, Minds and Telegram.