'Why Did You Shoot Me? Why Did You Shoot My Dad?' Thug Shoots 6yo Girl Along With Her Mother And Father After 'Basketball Rolls Into His Yard'
Chris Menahan
InformationLiberation
Apr. 20, 2023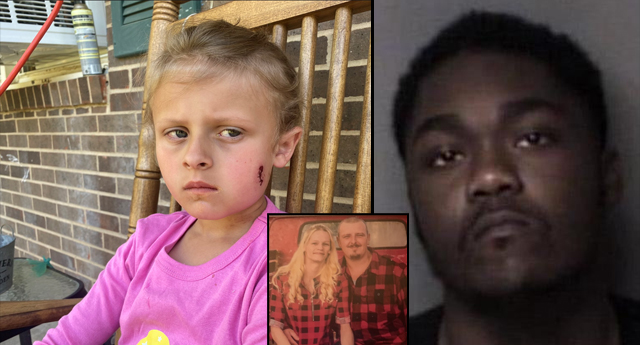 Is Joe Biden going to invite 6-year-old Kinsley White to the White House like he did with Ralph Yarl?



From WSOCTV, "6-year-old, parents shot in Gaston County; police search for gunman":

GASTON COUNTY, N.C. — Police are looking for a gunman after a 6-year-old girl and her parents were shot Tuesday night in Gaston County. Channel 9's Ken Lemon learned it all happened over a basketball that rolled into the suspect's yard.

The shooting happened in the area of April Drive and Grier Street, which is in a neighborhood south of Gastonia.

Neighbors said several young children were playing basketball when the ball rolled down the street and into Robert Singletary's yard. They said Singletary got mad and ran down the street, firing a gun at a neighbor.

They said Singletary then came back, shooting at William White as White ran with his 6-year-old daughter, Kinsley.


Kinsley and her father were seriously hurt. Her mother, Ashley Hilderbrand, was grazed by a bullet and is back home now, but William White is still in the hospital.

"We don't even know the man," Kinsley said.

[...] Kinsley, who has stitches from bullet fragments in her cheek, is in a position no child should be in. She's worried about her father, who suffered the most serious injuries while he was trying to protect her. She spoke to Lemon while holding her grandfather's hand, with sadness in her eyes and the daunting question on her mind.

"Why did you shoot my daddy and me? Why did you shoot a kid's dad?" Kinsley asked.
No doubt Joe Biden will be reaching out to the White family any minute now. Kamala Harris is preparing to fire off another tweet about how "every child deserves to be safe" as we speak!


Halle Berry, Jennifer Aniston, Chrissy Teigen, Jennifer Hudson, Leslie Jones and all the other Hollywood celebs who helped raise over $3.3 million for Ralph Yarl will be all over this case -- just you wait!

None of the above have said a single word about this mass shooting yet but I'm sure they'll be on it any second now!

[UPDATE: A GoFundMe to support the White family's medical bills in their time of need has been launched.]


Follow InformationLiberation on Twitter, Facebook, Gab, Minds and Telegram.