Jordan Peterson: Who's to Say Pakistani Scottish National Party Leader Humza Yousaf Isn't "White"?
Chris Menahan
InformationLiberation
Mar. 27, 2023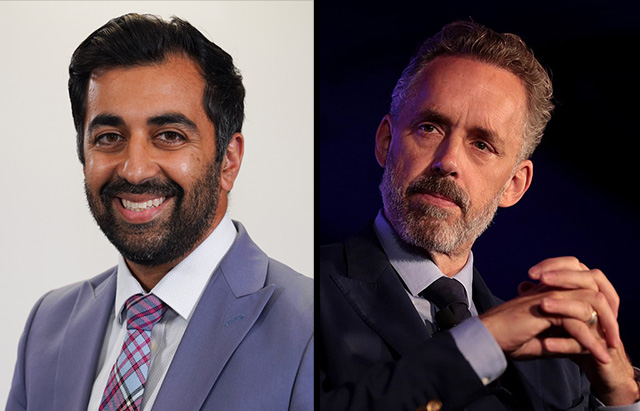 Jordan Peterson, who came to fame by insisting that transgender people are immutably the sex they were born as, can't figure out why the new Pakistani leader of the Scottish National Party isn't white.

The Telegraph video comment editor Steven Edginton on Monday shared video of SNP leader Humza Yousaf, who self-identifies as "non-white," lamenting how many white people hold positions of power in 96% white Scotland.

"For 99% of the meetings I go to, I'm the only non-White person in the room," Yousaf says in the video. "Every chair of every public body is White. That is not good enough."

"This sinister individual is now the SNP leader," Edginton commented. "Scotland is 96% white as a reminder."

Jordan Peterson, who has been pitched as "humanity's greatest thinker" and now works for Ben Shapiro at The Daily Wire, countered Edginton by responding: "By what standards is he not 'white'? Is he not white like Italians, Jews and Irishmen were once not 'white'?"


"'By what standards is he not "white"?' " Frank DeScushin responded. "Ancestry. Eyesight. Self-identification. It's odd that someone who came to fame by noting trans people are the sex they actually are, not the sex they claim to be, now claims non-white people are something other than what they actually are."


"You're part of a conservative clique that recently pushed back against leftist for pretending to not understand what a Woman is. Now you are pretending you don't know what a White person is?" Henrik Palmgren responded. "A woman is an adult human female. A White person is a man or a woman of European descent."


The idea that Italians and Irish were ever considered non-white in America is total nonsense disproved by the fact they were allowed to emigrate en masse despite naturalization being limited to "free white men of good character."

Isn't it remarkable how Peterson's take on "whiteness" is exactly the same as all the leftists and CRT shills he claims to oppose?

His boss Ben Shapiro holds similar views.


I wonder why these are the "conservative" leaders pushed on the public by YouTube and Facebook?

[Right side header image of Jordan Peterson by Gage Skidmore, Cropped, CC BY-SA 3.0. Left side header image of Humza Yousaf by the Scottish Government, Cropped, CC BY 2.0, Composite]

Follow InformationLiberation on Twitter, Facebook, Gab, Minds and Telegram.