Jordan Peterson Calls for Regime Change in Iran to Fight 'Misogyny'
Chris Menahan
InformationLiberation
Jan. 31, 2023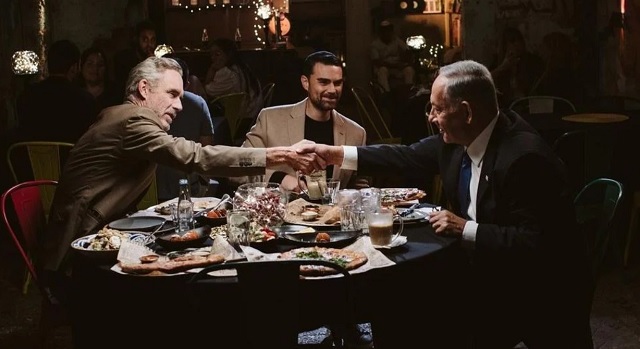 Jordan Peterson called for regime change in Iran in the name of fighting "misogyny" during a recent podcast for Ben Shapiro's Daily Wire.


"If any of you have been particularly taken by [Iranian women's rights activist Masih Alinejad's] story today, you know, you can always put pen to paper and write your congressman or your senator and let them know that you're not all that happy about the situation in Iran and that if the politicians got their act together and were stalwart in the opposition to this fundamentalist, totalitarian, misogynist, brutal regime, then maybe it can be pushed over and that would be a nice object lesson to totalitarian tyrants everywhere in the world," Peterson said at the end of his Jan 19th podcast.

After independent journalist Michael Tracey highlighted the clip on Twitter, Peterson responded by questioning if Tracey was "pro-Iranian theocracy."

"I read this a couple of times and failed to understand your point @mtracey. Is this a pro-Iranian theocracy comment? Or is it somehow about what I hypothetically think about women? Care to clarify?" Peterson said.


"Sure, happy to clarify: you're calling for US intervention to topple a foreign government, also known as 'regime change,' which is probably the most reliably insane thing the US government ever does,' Tracey responded. "And you frame it as some sort of great moral crusade to impose Gender Equity."


"If you really think it's a 'pro-Iranian theocracy comment' to observe the insanity of agitating to depose the government of Iran in order to spread liberal values across the Middle East, this may suggest you've strayed a bit far from your usual areas of expertise @jordanbpeterson," Tracey added.


It came out earlier this month that Ben Shapiro's Daily Wire offered Steven Crowder $50 million to join their site, I wonder how many tens of millions of dollars they're giving to Jordan Peterson to spew this crap?

As I reported last month, Jordan Peterson took a trip to Israel with Ben Shapiro in October to meet with Benjamin Netanyahu and produce pro-Netanyahu, pro-Israel propaganda to feed to his 6.3 million YouTube subscribers.

After returning, Peterson made it his mission to ban anonymity on the internet to combat "anti-Semitism" and silence "anonymous troll demons."

UPDATE:


Follow InformationLiberation on Twitter, Facebook, Gab, Minds and Telegram.