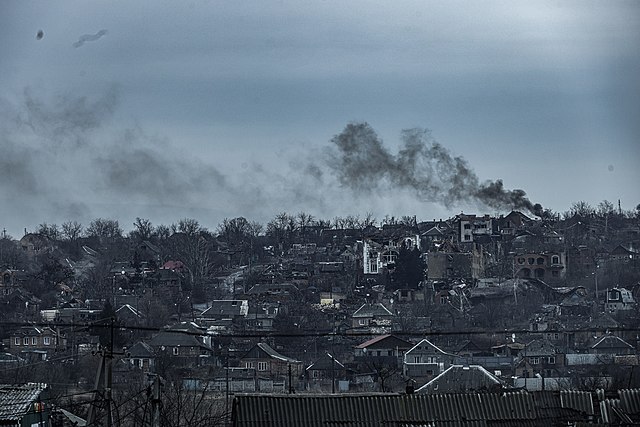 The Washington Post, citing a Ukrainian battalion commander, reported this week that "all" Ukrainian soldiers with combat experience are "already dead or wounded" -- which may jeopardize the Zelensky regime's planned "spring offense" aimed at taking back lost land from Russia.

From The Washington Post, "Ukraine short of skilled troops and munitions as losses, pessimism grow":

DNIPROPETROVSK REGION, Ukraine — The quality of Ukraine's military force, once considered a substantial advantage over Russia, has been degraded by a year of casualties that have taken many of the most experienced fighters off the battlefield, leading some Ukrainian officials to question Kyiv's readiness to mount a much-anticipated spring offensive.

U.S. and European officials have estimated that as many as 120,000 Ukrainian soldiers have been killed or wounded since the start of Russia's invasion early last year, compared with about 200,000 on the Russian side, which has a much larger military and roughly triple the population from which to draw conscripts. Ukraine keeps its running casualty numbers secret, even from its staunchest Western supporters.

Statistics aside, an influx of inexperienced draftees, brought in to plug the losses, has changed the profile of the Ukrainian force, which is also suffering from basic shortages of ammunition, including artillery shells and mortar bombs, according to military personnel in the field.

"The most valuable thing in war is combat experience," said a battalion commander in the 46th Air Assault Brigade, who is being identified only by his call sign, Kupol, in keeping with Ukrainian military protocol. "A soldier who has survived six months of combat and a soldier who came from a firing range are two different soldiers. It's heaven and earth."

"And there are only a few soldiers with combat experience," Kupol added. "Unfortunately, they are all already dead or wounded."

Such grim assessments have spread a palpable, if mostly unspoken, pessimism from the front lines to the corridors of power in Kyiv, the capital. An inability by Ukraine to execute a much-hyped counteroffensive would fuel new criticism that the United States and its European allies waited too long, until the force had already deteriorated, to deepen training programs and provide armored fighting vehicles, including Bradleys and Leopard battle tanks.

[...] One senior Ukrainian government official, who spoke on the condition of anonymity to be candid, called the number of tanks promised by the West a "symbolic" amount. Others privately voiced pessimism that promised supplies would even reach the battlefield in time.

"If you have more resources, you more actively attack," the senior official said. "If you have fewer resources, you defend more. We're going to defend. That's why if you ask me personally, I don't believe in a big counteroffensive for us. I'd like to believe in it, but I'm looking at the resources and asking, 'With what?' Maybe we'll have some localized breakthroughs."

"We don't have the people or weapons," the senior official added. "And you know the ratio: When you're on the offensive, you lose twice or three times as many people. We can't afford to lose that many people."

[...] Such analysis is far less optimistic than the public statements by Ukraine's political and military leadership.

Ukrainian President Volodymyr Zelensky has described 2023 as "the year of victory" for Ukraine. His military intelligence chief, Kyrylo Budanov, touted the possibility of Ukrainians vacationing this summer in Crimea, the peninsula Russia annexed illegally from Ukraine nine years ago.

[...] After a year of war, Kupol, a lieutenant colonel, said his battalion is unrecognizable. Of about 500 soldiers, roughly 100 were killed in action and another 400 wounded, leading to complete turnover. Kupol said he was the sole military professional in the battalion, and he described the struggle of leading a unit composed entirely of inexperienced troops.

"I get 100 new soldiers," Kupol said. "They don't give me any time to prepare them. They say, 'Take them into the battle.' They just drop everything and run. That's it. Do you understand why? Because the soldier doesn't shoot. I ask him why, and he says, 'I'm afraid of the sound of the shot.' And for some reason, he has never thrown a grenade. ... We need NATO instructors in all our training centers, and our instructors need to be sent over there into the trenches. Because they failed in their task."

He described severe ammunition shortages, including a lack of simple mortar bombs and grenades for U.S.-made MK 19s.
The Kyiv Independent, a Western-backed pro-Ukraine propaganda outlet, released a similarly bleak article on the war earlier this week detailing how Ukrainian soldiers know they're being "sent to their deaths" in Bakhmut and lamenting how Russia can already "taste victory."

I've seen speculation that this type of talk is to get the US/NATO to send more weapons and resources but both have been sending everything they can get their hands on for the past year while the media was busy putting out thousands of articles claiming the war was going splendidly for Ukraine.

Follow InformationLiberation on Twitter, Facebook, Gab, Minds and Telegram.