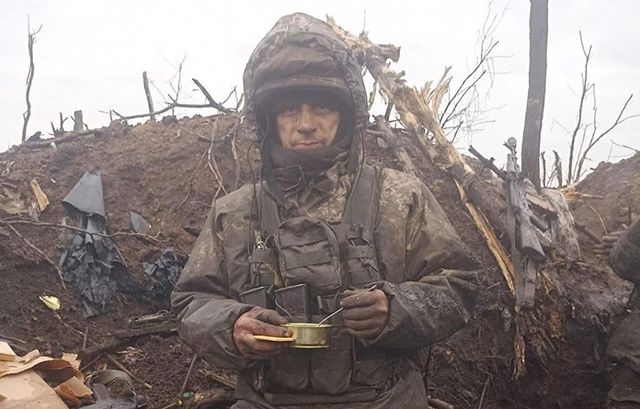 The Kyiv Independent, a Western-backed pro-Ukraine propaganda outlet, released a remarkably honest article on Wednesday detailing the bleak outlook for Ukrainian troops in Bakhmut.

From The Kyiv Independent, "Battle of Bakhmut: Ukrainian soldiers worry Russians begin to 'taste victory'":

Just days before heading back to fight in the Battle of Bakhmut, a Ukrainian soldier Volodymyr, 54, said he felt ill-prepared.

"When they drive us to Bakhmut, I already know I'm being sent to death," Volodymyr told the Kyiv Independent during his brief stay in Kramatorsk, a city in Donetsk Oblast some 25 kilometers west of the front line.

Volodymyr, an infantryman from the 93rd Mechanized Brigade, said he struggled to eat after fighting in Bakhmut for months. He looked shaken as he talked.

For two months, Volodymyr's unit was tasked with guarding Bakhmut against small Russian assault groups creeping into the city. The brigade was constantly under mortar fire as soldiers were outdoors where shrapnels could wound or kill them at any moment.

"(The Russians) keep firing at us, but we don't have artillery – so we have nothing to attack them back with," Volodymyr said. "I don't know if I will return or not. We are just getting killed."

Ukrainian infantrymen interviewed by the Kyiv Independent described the fighting in Bakhmut as a desperate survival challenge against Russia's "infinite" stocks of artillery munitions and manpower. With just their machine guns and rifles, they say they braced relentless Russian mortar and artillery attacks until their hideout was eventually destroyed.

Volodymyr is haunted by the thoughts of his comrades killed in Bakhmut. He recalls a 29-year-old comrade whom he found lying dead after shrapnel hit the young man's head at a position.

"I knew he was dead, but I just kept wrapping his head (with bandages)," Volodymyr said.

[...] Russian forces outnumber the Ukrainians two to three times on the Bakhmut front, with approximately 20,000 to 30,000 troops fighting in the area, according to Mykola, a staff sergeant from the 28th Mechanized Brigade.

If Russia keeps up its current pace of attacks, "it could be a few weeks, and that's it," Mykola said about the fight for Bakhmut.

"The situation is now very difficult because they have already felt the taste (of victory in Bakhmut)," Mykola said. "And now they know that there is only a little bit left."

[...] Valeriy, a Ukrainian infantryman, says that most of his fallen comrades were fatally wounded by projectile fragments.

"It's a pity that probably 90% of our losses are from artillery – or tanks and aviation," Valeriy told the Kyiv Independent a few hours after leaving the Bakhmut front. "And much less (casualties) from shooting battles."

Valeriy counted that "only a few" of the original 27 members of his platoon got out of the Bakhmut front with him, though he explained that most of them were wounded, not killed.

"The Russians have so many weapons, and there are so many of them," Valeriy said. "They are firing at us all the time. Sometimes, you hear an incoming (shell) every second."

[...] Infantryman Vladyslav from the 58th Independent Motorized Infantry Brigade says many soldiers in his platoon have refused to go to Bakhmut as Russians came closer.

Multiple soldiers from other brigades also said they've encountered many "refusers" who did everything not to be deployed back to Bakhmut.

During the last rotation in late February, Vladyslav said that only eight out of 25 soldiers in his platoon headed out to Bakhmut – and the rest said they couldn't go because of sudden fever or body pain.

The eight then headed to a position at a crossroad near the Bakhmutka River, where destroyed houses lined up. The platoon came under heavy Russian mortar fire as soon as they arrived.

Two were killed, and two were severely wounded – one soldier lost his arm, and the other was hit in the stomach by a projectile, Vladyslav said. The rest, including Vladyslav himself, received a severe concussion.

They were all evacuated from Bakhmut that day and lost the position.

[...] Relying heavily on drones, the Russians would locate Ukraine's positions in the area. They would then fire multiple rounds of mortar and artillery, which would then be followed by infantry assaults, in an attempt to encircle Ukrainian soldiers, according to Maksym.
In related news, the Zelensky regime announced on Tuesday they're going to continue sending troops to die in Bakhmut.

From The Libertarian Institute, "Ukrainian Leaders Say They Will Continue to Send Soldiers into Bakhmut 'Meat Grinder'":

President Volodymyr Zelensky met with his top military advisers and announced that Ukrainian troops will continue to fight for the Donbass city of Bakhmut. The nine-month battle has recently been described as a "meat grinder," and Kiev's Western backers are concerned that Ukraine is losing too many troops and weapons in the fight.

On Tuesday, Zelensky held a meeting of the staff of Kiev's Supreme Commander-in-Chief. A press release from Zelensky's office said all the officials in attendance agreed to continue fighting for Bakhmut, which is also known as Artyomovsk in Russia.

Fighting for the city intensified in January after Russian forces seized the nearby settlement of Soledar. German officials estimate that Kiev is losing a "three-figure" number of soldiers every day fighting for Bakhmut, while an American serving on Kiev's side in the city called the battle a "meat grinder" and said troops on the front lines only survive for an average of four hours.
Potentially hundreds of thousands of Ukrainian soldiers are being sent to their deaths by Zelensky for the sole purpose of dragging down Russia in a US proxy war.

As Italian Prime Minister Silvio Berlusconi said last month, "All [Zelensky] had to do was to stop attacking the two autonomous republics of the Donbas and this [war] would not have happened."

Follow InformationLiberation on Twitter, Facebook, Gab, Minds and Telegram.