Tucker Releases New J6 Footage Showing Police Escorted Q-Anon Shaman Throughout The Capitol, J6 Committee Misled The Public
Chris Menahan
InformationLiberation
Mar. 07, 2023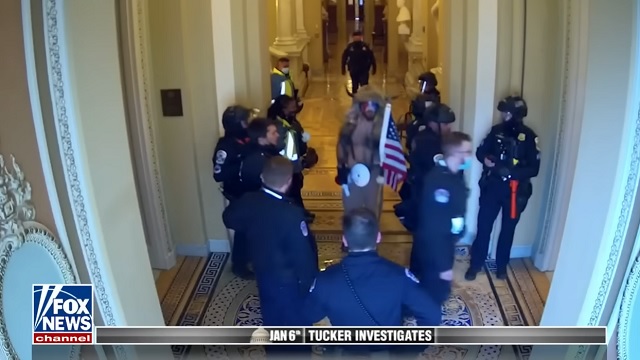 Tucker Carlson released a host of new footage "demolishing" the claim that January 6th was an "insurrection" and exposing the January 6th Committee for intentionally misleading the public with selectively edited footage.

Video from inside the Capitol Building shows police officers escorted the Q-Anon Shaman, Jacob Chansley, throughout the premise as his "tour guides" and even "tried to open locked doors for him."



Additional footage showed officer Brian Sicknick, who the DC medical examiner determined died of natural causes a day after J6, appeared to be in good health inside the Capitol Building shortly after getting in a scuffle near an entrance to the Capitol (media reports falsely claimed he was bludgeoned with a fire extinguisher).


The January 6th Committee's deceptively and intentionally edited footage of Sen. Josh Hawley "fleeing the Capitol like a coward" to cut out the fact he was actually in the back of a large group that were being escorted out of the building by Capitol police.


Another clip Carlson released showed Ray Epps "lied in his sworn testimony" to the J6 Committee when he claimed the text he sent to his nephew boasting about how he "orchestrated" the event were sent after he left the Capitol grounds to return to his hotel room.

"That's not true," Carlson said. "The surveillance footage we found shows that in fact he remained at the Capitol for at least another half an hour."

"What was Epps doing there? We can't say, but we do know he lied to investigators," Carlson said.


Carlson also shared footage showing it was a "lie" that Congressman Barry Loudermilk (R-GA) led a "reconnaissance mission" through the Capitol on Jan 5.

"The so-called 'reconnaissance mission' that Democrats' alleged was nothing more that Congressman Loudermilk giving a guided tour to his constituents from Georgia, none of whom were quote 'insurrectionists,'" Carlson said. "Loudermilk didn't even take the group inside the Capitol Building, they walked through a congressional office building down the street."


"Besides misleading the public, they withheld evidence for partisan political reasons that sent people to prison for far more serious crimes than they committed," Elon Musk commented in response to the new tapes. "That is deeply wrong, legally and morally."


Follow InformationLiberation on Twitter, Facebook, Gab, Minds and Telegram.