'The Pincers Are Getting Tighter': Wagner Chief Tells Zelensky Russia Has Bakhmut 'Surrounded'
Chris Menahan
InformationLiberation
Mar. 03, 2023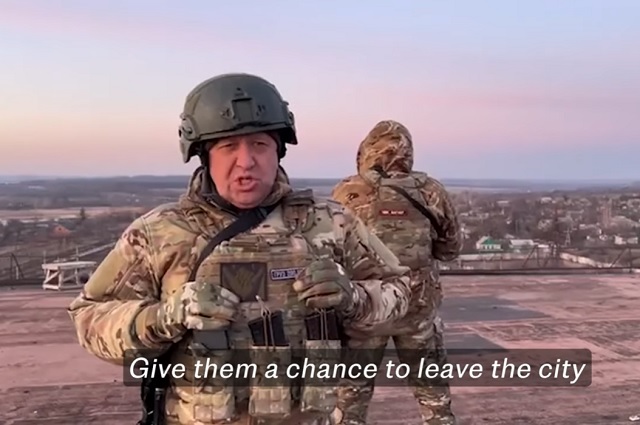 Russia's Wagner Group founder Yevgeny Prigozhin released a video on Friday from just outside the center of the Ukrainian city of Bakhmut telling Volodymyr Zelensky to order a withdrawal immediately as they have the city "practically surrounded" with only one road left out, Reuters reports.


From Reuters:

Prigozhin's men have spearheaded the assault in eastern Ukraine for months. Moscow regards Bakhmut, which it calls by its Soviet-era name of Artyomovsk, as a useful stepping stone to seize bigger cities like Kramatorsk and Sloviansk.

[...] "Units of the private military company Wagner have practically surrounded Bakhmut. Only one road is left (open to Ukrainian forces) The pincers are getting tighter," said Prigozhin.

Reuters geolocated the video to the village of Paraskoviivka, 4.3 miles (7 km) north of the centre of Bakhmut. Prigozhin announced the capture of Paraskoviivka on Feb. 17.

Prigozhin said his forces were increasingly fighting against old men and children rather than the professional Ukrainian army.

The video then showed what looked like three captured Ukrainians - an older man and two young boys - who looked frightened and asked to be allowed to go home. They looked to be speaking under extreme stress.
Bakhmut has seen some of the fiercest fighting yet with Zelensky shoving as many Christian Ukrainian soldiers into the meatgrinder as he can round up.


From Newsweek, "Bakhmut Life Expectancy Near Four Hours On Frontlines, Fighter Warns":

Frontlines shifted to Bakhmut—a city in eastern Ukraine—in July 2022, and according to former U.S. Marine Troy Offenbecker, the scene is grisly.

Offenbecker, who is fighting in Ukraine's International Legion comprised of foreign soldiers, told ABC News that when a Ukrainian soldier fights on the frontlines in Bakhmut, their life expectancy is only around four hours.

"It's been pretty bad on the ground," he said. "A lot of casualties. The life expectancy is around four hours on the frontline."

Offenbecker said Bakhmut has been called "the meat grinder" because of the macabre scenes, and he described the fighting as "chaotic".
This video released from Wagner was geolocated to 2 km from the center of Bakhmut, according to CNN.


Every day since March 2022 the media has been claiming Russia is running out of steam but someone they keep managing to take new territories.


Follow InformationLiberation on Twitter, Facebook, Gab, Minds and Telegram.