In just three years under President Nayib Bukele, El Salvador went from the murder capital of the world to reporting "zero murders in 300 days" thanks to a fierce crackdown on gangs which saw 64,000 suspected gang members rounded up and thrown in jail.





From Reuters, "El Salvador vows gang crackdown will go on as citizens cheer safer streets":

SAN SALVADOR, Feb 15 (Reuters) - El Salvador's state of emergency to combat gangs, which has widespread public support despite a growing prison population and allegations of human rights abuses, will be maintained until all criminals are captured, the country's security minister told Reuters.

Since President Nayib Bukele asked the country's congress to approve a state of exception in March last year, security forces have arrested more than 64,000 suspected gang members and associates. Authorities estimate they have around 10,000 more arrests to make and the measure has been regularly extended.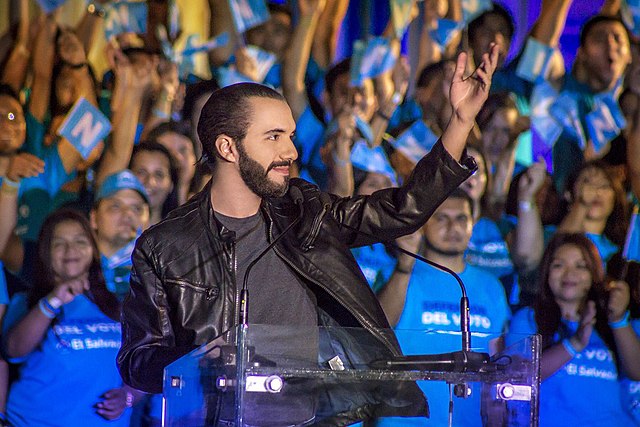 "As long as we have these murderers and these terrorists fleeing and escaping within the country, this measure must continue," Security Minister Gustavo Villatoro said in an interview last week in his office in San Salvador.

[...] The crackdown on El Salvador's notorious gangs has more than halved murders in one of the most crime-ridden countries in the Western hemisphere, drawing the interest of other nations struggling with gang violence and raising questions about what rights citizens are willing to exchange for living on safer streets.

With nearly 2% of its adult population behind bars, El Salvador has the highest incarceration rate in the world and recently inaugurated one of the region's largest prisons, with a capacity for 40,000 inmates.

Under the state of emergency some constitutional rights have been suspended. Arrests can be made without a warrant, the government has unfettered access to private communications, and detainees' rights to a lawyer have been shelved.
Sounds like what the U.S. is doing to the J6 protesters.
But the vast majority of people in El Salvador say they approve of the hard-line approach and feel safer. A survey this month by pollsters CID Gallup found that 92% of the population supports the state of exception.

In 2022 homicides fell 57% to 495, from 1,147 in 2021, according to government figures. Extortion, one of the gangs' primary sources of income, has plummeted, many residents say. By August of last year, the transportation minister estimated bus companies had already saved around $50 million from not paying.

In Santa Tecla, a city just outside capital San Salvador, 45-year-old mechanic Manuel said he had paid extortion money for 12 years. Every two weeks he gave the money to hitmen from MS-13 who threatened to kill his wife and four children if he did not pay, and he was often forced to fix the gang's cars for free. During Christmas he would pay double.

But since last July, no one has come to collect the payment, he said.

"I feel calmer, I can go for a walk. I go out to walk every night with my young children," he told Reuters. "Before I didn't even take them out."

STRONGMAN MOVES

The results of the crackdown have led other countries in the region to consider similar policies, including Honduras, which implemented a pared-down version last December. El Salvador has also discussed offering support to Haiti, which has pleaded for help from the international community to end gang violence that has left much of its territory off-limits to the government.
In contrast, the Biden regime is inviting all these criminals in and pushing for them to be given US citizenship.

For ten residents Reuters spoke to in neighborhoods around San Salvador once dominated by gangs the crackdown has transformed their lives for the better. They now can go outside at night, spend time at parks and soccer pitches, receive visitors from other parts of the city and even order fast food delivery - all unthinkable when the gangs roamed.

Alexander Guillen is a 24-year-old university student who is part of an artistic graffiti collective that now paints the walls where Barrio 18 tags once reigned.

"There is freedom that young people have to be able to perform, be it artistically, culturally, or in sports," he said. "We have that freedom to be able to develop ourselves... to be able to use the public spaces in the neighborhood without any fear."
Crime in the West is viewed as an immutable force for which only the symptoms can be treated through reparations, "restorative justice" and "social equity."

President Bukele has proven that's all a lie.



Whereas Bukele is rounding up gang members en masse and throwing them in jail, San Francisco is passing the "CAREN Act" to punish "entitled" white women for calling the police on non-white suspects who make them feel threatened.

The US could be a safe country if our leaders wanted it to be. Instead, they empower criminals on all fronts and punish the law-abiding for defending themselves.

Turning America into a Third-World s-hole was a choice. With the right leaders and political will, this sinking ship could be turned around at any time.

Follow InformationLiberation on Twitter, Facebook, Gab, Minds and Telegram.