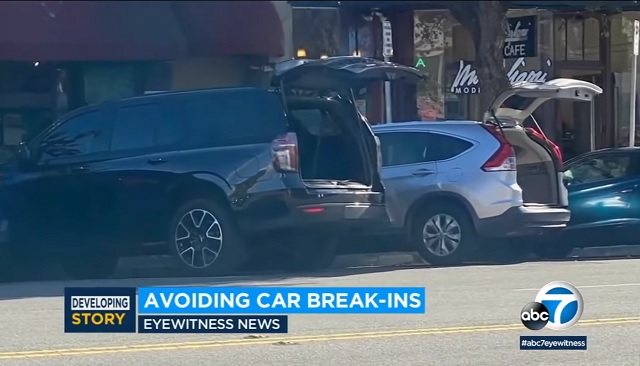 Increasingly desperate car owners in the San Francisco Bay Area are leaving their trunks wide open in a bid to avoid having their windows smashed in by looters.

WATCH:



From ABC 7, "Bay Area car break-ins are on the rise, prompting some auto owners to leave their trunks open":

"I'm shocked," said former San Francisco Police Department Deputy Chief Garret Tom. "There's so much that can go wrong here."

[...] Tom says in his nearly 40 years on the force, he's never seen people resort to this to protect their windows.

"We're in different times... that's unbelievable," he told KGO-TV's Stephanie Sierra as he glanced at the picture.

Tom says it's an invitation for even more theft - or perhaps unwanted visitors.
These smash and grabs are happening in cities across the US but San Francisco appears to be the absolute worst when it comes to car break-ins.


From KPIX, "San Francisco Sees 3,000 Car Break-Ins in 1 Month; 'It's Out of Control'":

"It's out of control. We have people that are doing this – are breaking into cars in Nob Hill, then they go down to Fisherman's Wharf, then they come out here. Then they go to another part of the city and the police can't chase the cars, it's considered a misdemeanor," said Alan Byard, a San Francisco Patrol Special Police Officer.

As a patrol special officer, Byard is part of a neighborhood police force authorized in San Francisco's city charter. He patrols the Marina, where he has 172 residential clients. He added 20 just in the last month. He said the number one problem is car burglaries.

"I come out here every night and I see new piles of glass," said Byard.

In the month of November, city data shows there were 3,375 reports of larceny theft in San Francisco – the overwhelming majority of those were car break-ins.

SFPD's Central District, home to tourist hot spots including Fisherman's Wharf and Chinatown, sees the highest number of smash-and-grabs.

In fact, last month alone, there were 876 reports – that's almost 30 a day – compared with 442 last November.

It's still up from the year before, when there 734 cases pre-pandemic.
Dion Lim, a crime beat reporter for KGO-TV San Francisco, shared multiple videos of such break-ins she said were "targeting Asians."




Note: leftist cities like San Francisco and New York City are now using "hate crime" enhancements as a workaround to try and get these thugs off the streets.

Lim has seen so many videos of these fellas in action she has decided to get firearms training:


The rooftops are calling!

Follow InformationLiberation on Twitter, Facebook, Gab, Minds, Parler and Telegram.