Nimrata "Nikki Haley" Randhawa on Tuesday officially announced she's running for president with an ad highlighting her status as an Indian and a woman, which apparently makes her uniquely qualified to battle the woke left.

I believe it was Sun Tzu who said, "In order to battle the woke left, you must embody their values completely."


After opening her announcement ad by highlighting how she's "the proud daughter of Indian immigrants" who was "Not Black, not White" but "different," Haley said her mom would always say "your job is not to focus on the differences but the similarities."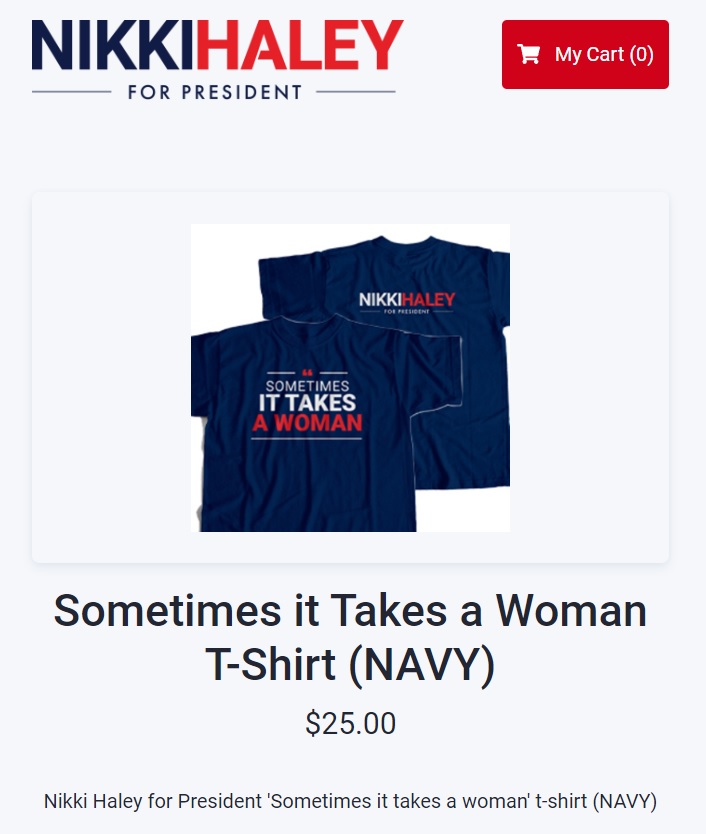 "Some look at our past as evidence that America's founding principles are bad. They say the promise of freedom is just made up. Some think our ideas are not just wrong, but racist and evil. Nothing could be further from the truth," Haley said.

The "some" people she's referencing must be herself as she tore down the Confederate flag off the South Carolina State House in the wake of Dylann Roof's mass shooting as though all white Southerners were to blame for the attack.


"When evil did come," Haley said, referencing the Roof shooting, "we turned away from fear, toward God and the values that still make our country the freest and greatest in the world."

This is a woman who literally compared Donald Trump to Dylann Roof.


Her shameless retconning is remarkable.

"I have seen evil," Haley said in her ad. "In China they commit genocide. In Iran they murder their own people for challenging the government. And when a woman tells you about watching soldiers throw her baby into a fire it puts things into perspective."

The Chinese are not genociding the Uyghurs, their numbers are going up.

Did Nikki Haley see what our own government did to Ashli Babbitt?

Haley also bizarrely lamented that "Republicans have lost the popular vote in seven of the last eight presidential elections" and insisted, "That has to change."

Apparently, Republicans need to pick up more votes in California and New York by acting like libtards while they lose every crucial swing state and the electoral college.


Haley ended her ad by claiming she stands up to "bullies" but as she made the statement, she had B-roll footage of herself voting at the UN in favor of Israel "bullying" Palestinians.

From Haaretz, "Nikki Haley, a pro-Israel Establishment Favorite, First Republican to Challenge Trump for Presidency":

Nikki Haley, the former South Carolina governor who became a pro-Israel favorite during her two years as the Trump administration's ambassador to the United Nations, announced her bid for the presidency, becoming the first Republican to challenge the former president ahead of 2024.

[...] Haley, as a governor with a national reputation, was already on the pro-Israel radar when Trump in 2017 named her his first ambassador to the United Nations. Heading into the job, she consulted closely with pro-Israel groups and forged a close alliance with Israel's delegation to the body.

Soon she was at the forefront of reversing decades of U.S. policy at the United Nations, preventing the hiring of Palestinians for top jobs, scrubbing Israel-critical reports, quitting the UN Human Rights Council and influencing Trump's cutting of funding to UNRWA, the body providing relief to Palestinian refugees and their descendants.

That profile soon made her a star at conferences of the American Israel Public Affairs Committee, where she consistently drew crowds and applause. It was at an AIPAC conference, in fact, when she coined her personal motto: "I wear high heels. It's not for a fashion statement, it's because if I see something wrong I will kick it every single time."


Haley quit her ambassadorship at the end of 2018, but increased her pro-Israel profile. She used an appearance at the 2019 AIPAC conference to announce the establishment of her advocacy group, Stand for America, the first substantive sign she was running for president. She is a star speaker at the Republican Jewish Coalition and used the RJC platform in 2021 to chide AIPAC for what she said was an overemphasis on bipartisanship.

She has also cultivated Trump's Jewish daughter, Ivanka, and her husband, Jared Kushner, who led Middle East diplomacy under Trump. Kushner's father Charles has raised funds for her.

Haley used a version of her motto in her video Tuesday, in a way that could be read as a warning to Trump, who takes no prisoners in deriding opponents: "I don't put up with bullies. And when you kick back, it hurts them more. If you're wearing heels." Haley notably called Trump a bully when in 2016 she backed a rival, Marco Rubio, for the GOP presidential nomination.

[...] Haley can count on pro-Israel money, but even there she has rivals. Mike Pompeo, the former Secretary of State who is also likely to announce a presidential bid, devoted a chunk of his recent autobiography to minimizing Haley's role in the Trump administration, including in Trump's Middle East policy. Pompeo accused Haley of plotting with Jared Kushner and Ivanka Trump to replace Mike Pence as vice-president. Pence, who has broken with Trump, is also considering a presidential run and his deep ties in the pro-Israel community.
Haley actually unofficially launched her presidential campaign in Israel in 2021 with Jewish Insider reporting that for "GOP hopefuls" campaigning in Israel has now replaced the Iowa caucus.


Haley's campaign should be dead on arrival but she's getting tens of millions of dollars (or more) to attack Trump and ConInc shills are lobbying for Ron DeSantis to make her his running mate.

Follow InformationLiberation on Twitter, Facebook, Gab, Minds and Telegram.