Conservatives may be leaving the pro-Israel plantation but the GOP hacks vying for the presidency know nothing else.


From Jewish Insider:

For GOP hopefuls, Israel is the new Iowa
Recent travel to Israel by several 2024 hopefuls is turning the Jewish state into a must-visit campaign stop

By Gabby Deutch, Marc Rod
June 9, 2021

After the recent round of intense fighting between Israel and Hamas, several Republican politicians have visited Israel or announced plans to do so. One of the first to announce travel plans was Indiana Gov. Eric Holcomb, who arrived in Israel days after a cease-fire was announced. Sens. Ted Cruz (R-TX), Bill Hagerty (R-TN) and Lindsey Graham (R-SC) visited on official congressional delegations. Former Secretary of State Mike Pompeo traveled to Israel last week for a goodbye party for the head of Mossad and former U.S. Ambassador to the U.N. Nikki Haley announced plans to visit with a Christians United for Israel delegation — even though neither of them currently holds public office.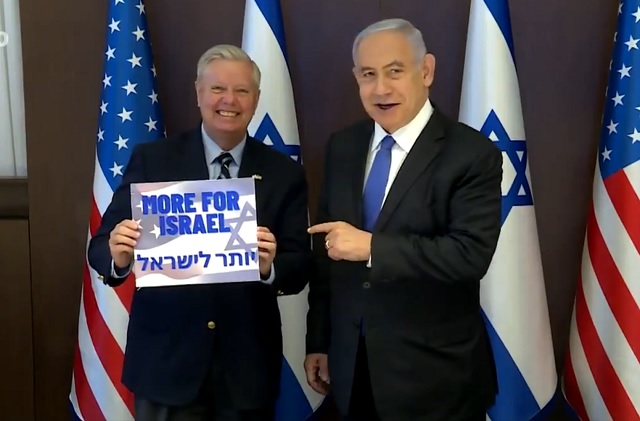 It's still two and a half years before any voters will head to the polls for the 2024 primaries, but potential candidates — like Cruz, Pompeo and Haley, who are all seen as likely 2024 Republican presidential contenders — are often trying to position themselves for the next race. Pompeo, for instance, was spotted in Iowa in March.

"I think for Republicans in particular, visiting Israel and being supportive of Israel has now become a requirement," said Elliott Abrams, currently a senior fellow at the Center on Foreign Relations who served in diplomatic roles in the administrations of Ronald Reagan, George W. Bush and Trump.

But Abrams notes that politicians' visits to Israel are not a new phenomenon, even if they have increased in recent years. "This is not new, and I think it's particularly unsurprising right now, because you've got political change happening in Israel, because you just had a war, because you have a new American president who's just setting his policy toward Israel and the Middle East. So it strikes me as pretty normal and predictable."
Abrams is full of it, as usual.






That said, it's true it's predictable.


Maybe our politicians should just stop campaigning in America altogether?

They're already cutting us out almost completely!

Follow InformationLiberation on Twitter, Facebook, Gab, Minds, Parler and Telegram.