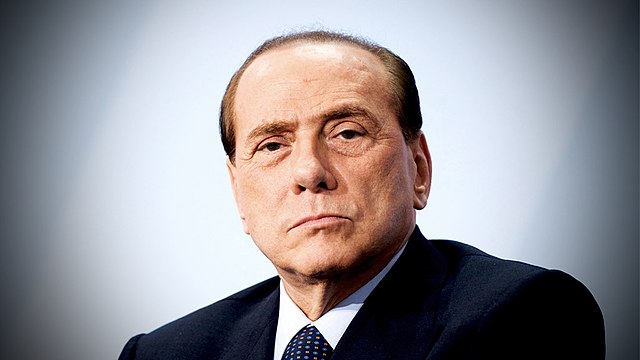 Volodymyr Zelensky is to blame for the war in Ukraine, former Italian Prime Minister Silvio Berlusconi told the media on Sunday.

From Politico, "Berlusconi blames Zelenskyy for war in Ukraine":

"All [Zelenskyy] had to do was to stop attacking the two autonomous republics of the Donbas and this would not have happened," Berlusconi told Italian media on Sunday evening after voting in Lombardy regional elections, which are set to be the first major political test for Prime Minister Giorgia Meloni's rightwing coalition.

"I judge, very, very negatively the behavior of this gentleman," Berlusconi added.

He went on to say the war could end if U.S. President Joe Biden threatened to stop sending military and financial aid to Ukraine and asked Zelenskyy to order a ceasefire in exchange for a "Marshall Plan of six, seven, eight, nine billion dollars" to rebuild the country.
While Berlusconi is telling it like it is, Italy's "based" female Prime Minister Giorgia Meloni is busy running around shilling for Ukraine and whining about not being invited to Zelensky's ritzy dinner parties in Paris.

Asked about Meloni's recent lashing out at France for not inviting her to a dinner with Zelenskyy in Paris, Berlusconi said he "would never have gone there to talk to Zelenskyy" if he had been in office.
Just last week, Zelensky admitted in an interview with Der Speigel that he never intended to honor the Minsk peace deal with Russia.

From Geopolitical Economy Report, "Ukraine's Zelensky admits he sabotaged Minsk peace deal with Russia, West blocked negotiations":

In an interview with the German daily Der Spiegel, published on February 9, 2023, Zelensky made it clear that he intentionally chose to sabotage Minsk.

The Ukrainian leader complained that the Minsk agreements were an unacceptable "concession".

Zelensky recalled telling French President Emmanuel Macron and German Chancellor Angela Merkel that "we cannot implement it".

"Procrastination is perfectly fine in diplomacy", Zelensky said, explaining that he only "jumped on the train" and pretended to support Minsk in order to negotiate a prisoner swap with Russia – and give his country more time to prepare for war.

Merkel herself confirmed this in December 2022, in an interview with the newspaper Die Zeit.

The former German leader stated that the "2014 Minsk agreement was an attempt to buy time for Ukraine. Ukraine used this time to become stronger".

Former French President François Hollande later commented, "Angela Merkel is right on this point".
Even though Zelensky ran as a peace candidate to get elected, after taking office he escalated the war in Donbas, accepted hundreds of millions of dollars worth of "lethal aid" from the US and threatened to acquire nuclear weapons.

[Header image by paz.ca via Flickr, CC BY 2.0]

Follow InformationLiberation on Twitter, Facebook, Gab, Minds and Telegram.