U.S. Sending $250M in Lethal Aid to Ukraine, Taxpayers On Hook For Total $1.5B Since 2014
Chris Menahan
InformationLiberation
Jun. 18, 2019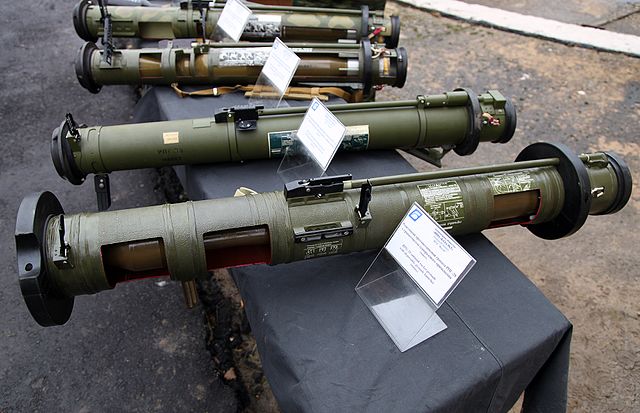 It's important we all make sacrifices so that Ukraine can get more sniper rifles, rocket-propelled grenade launchers and other high tech weaponry to fight the Russkies.

From U.S. News & World Report:

THE TRUMP administration will deploy $250 million worth of military aid and equipment – some of it lethal – to Ukraine's armed forces as it seeks to deter Russian aggression amid a recent spike in hostile acts, the Defense Department confirmed Tuesday.

The new equipment the U.S. will provide includes sniper rifles for Ukraine's special operations forces, as well as grenade launchers, counter-artillery radars and equipment to detect and protect against electronic warfare. The Obama administration and initially President Donald Trump balked at sending lethal weapons to Ukraine reportedly for fear of provoking Moscow, despite pressure from Congress. Trump authorized sending Javelin anti-tank missiles in 2017.

The U.S. will also increase its support to the Ukrainian navy and maritime troops, following last year's crisis at the Kerch Strait resulting in Russia's capturing 24 Ukrainian seamen, who remain in detention under the auspices of criminal proceedings.

The new aid, which Congress authorized and has pushed the Trump administration to disperse, brings the total U.S. support to Ukraine to $1.5 billion since it began in 2014, when Russia annexed the Crimea peninsula and began its ongoing support for separatist militias in Ukraine's eastern region, known as the Donbas. Ukrainian soldiers continue to die during isolated skirmishes and intermittent sniper and artillery fire in the simmering conflict.
It's our sacred duty to protect Ukraine's borders... but not our own borders, that's xenophobic!

Incidentally, many of the groups we've been arming for years -- including under the Obama administration -- are far-right nationalists whom the media would normally refer to as "neo-nazis" but instead calls "human rights champions."

Follow InformationLiberation on Twitter, Facebook, Gab and Minds.