Houston Taco Joint Robbed AGAIN As Hero Customer Who Shot Other Robber Faces Grand Jury
Chris Menahan
InformationLiberation
Jan. 12, 2023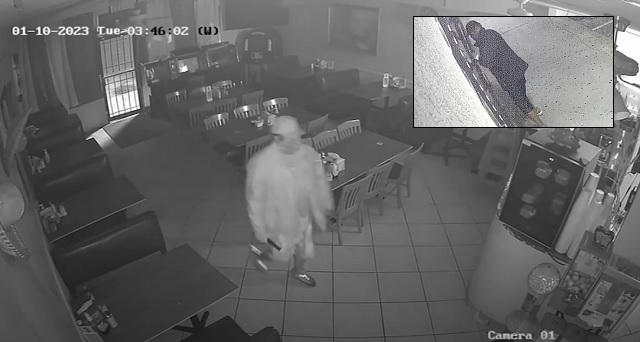 The Houston taqueria where an armed robber was shot and killed by a heroic customer last week was robbed again on Tuesday night as the hero customer was busy defending himself from a potential grand jury indictment.

WATCH:



From News 4 San Antonio, "Thief targets taqueria days after customer shoots and kills robbery suspect":

The latest robbery took place around 2:30 a.m. Tuesday at El Ranchito #4 on South Gessner Road and Bellaire Boulevard.

Early Tuesday morning, Lopez was woken up after his shop was broken into - the robber was caught on camera entering the restaurant.

Once inside, Lopez claims the thief stole $100, broke his slot machines and took the money. Unfortunately, he said it's nothing new.

"The little we do have we take home because it's been several times they've broken in," Lopez said.

Pedro Lopez, the restaurant owner, says he's feeling helpless and worried after his small business was hit twice.

"I feel bad," he said. "I don't know how to take care of myself or from which direction we'll be hit."

Business owners in the same shopping center say it's not uncommon for robberies and break ins to happen.

[...] Lopez says [the shooting incident] and the attention it has gotten hasn't deterred criminals.

"There was a death and not even that stops them," he said.
Perhaps crime is out of control in Houston because Soros-funded Harris County District Attorney Kim Ogg is wasting everyone's time by convening grand juries to rule on clear-cut self-defense cases and kneeling before BLM thugs?

The mother of the robber who was shot last week told FOX 26 Houston on Tuesday that she "understands" why her son was shot and she does not condone his criminal actions.

Natalie Hee said she's "sorry" her son Eric Eugene Washington took part in a murder in 2015 where he was not the shooter but he was recently trying to turn his life around and he is "not the monster people picture him to be."

"I don't hate him, I can't hate him but I want to know why didn't you stop?" Hee said, referring to the Good Samaritan who shot her son. "If you had to kill him, I can deal with that. I can come to grips with that. He did something wrong. I understand that. But for him to be shot four times in the back leaving, and when he falls down, he shoots him four more times? You abused him. He was dead already. And that hurt. That hurts."



Follow InformationLiberation on Twitter, Facebook, Gab, Minds and Telegram.