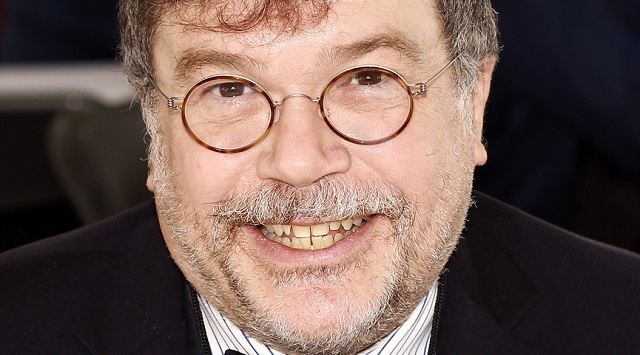 "Anti-vaccine activism" is a form of "anti-science aggression" and a "major killing force globally" worse than terrorism, gun violence and nuclear proliferation and "political solutions" are needed to shut it down, according to the World Health Organization's Dr Peter Hotez.

WATCH:


From Slay News:

"We have to recognize that anti-vaccine activism, which I actually call anti-science aggression, has now become a major killing force globally," Hotez said in the video, using a backdrop of photos of protestors against the Covid shots.

The University Professor of Biology at Baylor College of Medicine claims that "during the Covid pandemic in the United States, 200,000 Americans needlessly lost their lives because they refused a COVID vaccine, even after vaccines became widely available."

"And now the anti-vaccine activism is expanding across the world […]."

"It's a killing force," Hotez proclaimed.

"Anti-science now kills more people than things like gun violence, global terrorism, nuclear proliferation, or cyber-attacks."

The scientist did not provide evidence for this dramatic claim.

"And now it's become a political movement," he continued.

"In the U.S. it's linked to far [sic] extremism on the far right, same in Germany."

"So this is a new face of anti-science aggression.

"And so we need political solutions to address this."
"Nothing says trust the science like having your child's injuries hidden while participating in the Pfizer covid vaccine trial for 12-15yo at Cincinnati Childrens," Maddie de Garay's mother Stephanie responded on Twitter. "Almost 2yrs, in a wheelchair with feeding tube, started 12 hrs after 2nd dose #maddiedegaray."


Alberta Premier Danielle Smith was entirely correct when she noted in October after taking office that the unvaccinated are "the most discriminated against group that I've ever witnessed in my lifetime."

Big Pharma shills like Hotez not only supported forcing these experimental shots onto the global population but also viciously discriminating against anyone who refused to go along with the program. Hotez is now comparing us to terrorists, murderers and illicit nuclear weapons dealers.

Hotez himself, when Trump was still in office, actually said he was against rushing out a covid vaccine because it carried too many risks (he no doubt thought it would help Trump win reelection).

Here's a quote Hotez gave to Reuters in March 2020:

"I understand the importance of accelerating timelines for vaccines in general, but from everything I know, this is not the vaccine to be doing it with," Dr Peter Hotez, dean of the National School of Tropical Medicine at Baylor College of Medicine, told Reuters.

Hotez worked on development of a vaccine for SARS (Severe Acute Respiratory Syndrome), the coronavirus behind a major 2003 outbreak, and found that some vaccinated animals developed more severe disease compared with unvaccinated animals when they were exposed to the virus.

"There is a risk of immune enhancement," said Hotez. "The way you reduce that risk is first you show it does not occur in laboratory animals."
Whereas Hotez has zero principles, vaccine expert Angus Dalgleish, who originally shilled the vax throughout the media, has now done a complete 180 and is warning everyone he can about a dramatic increase he's seeing in the recurrence of cancer in his patients after taking their boosters.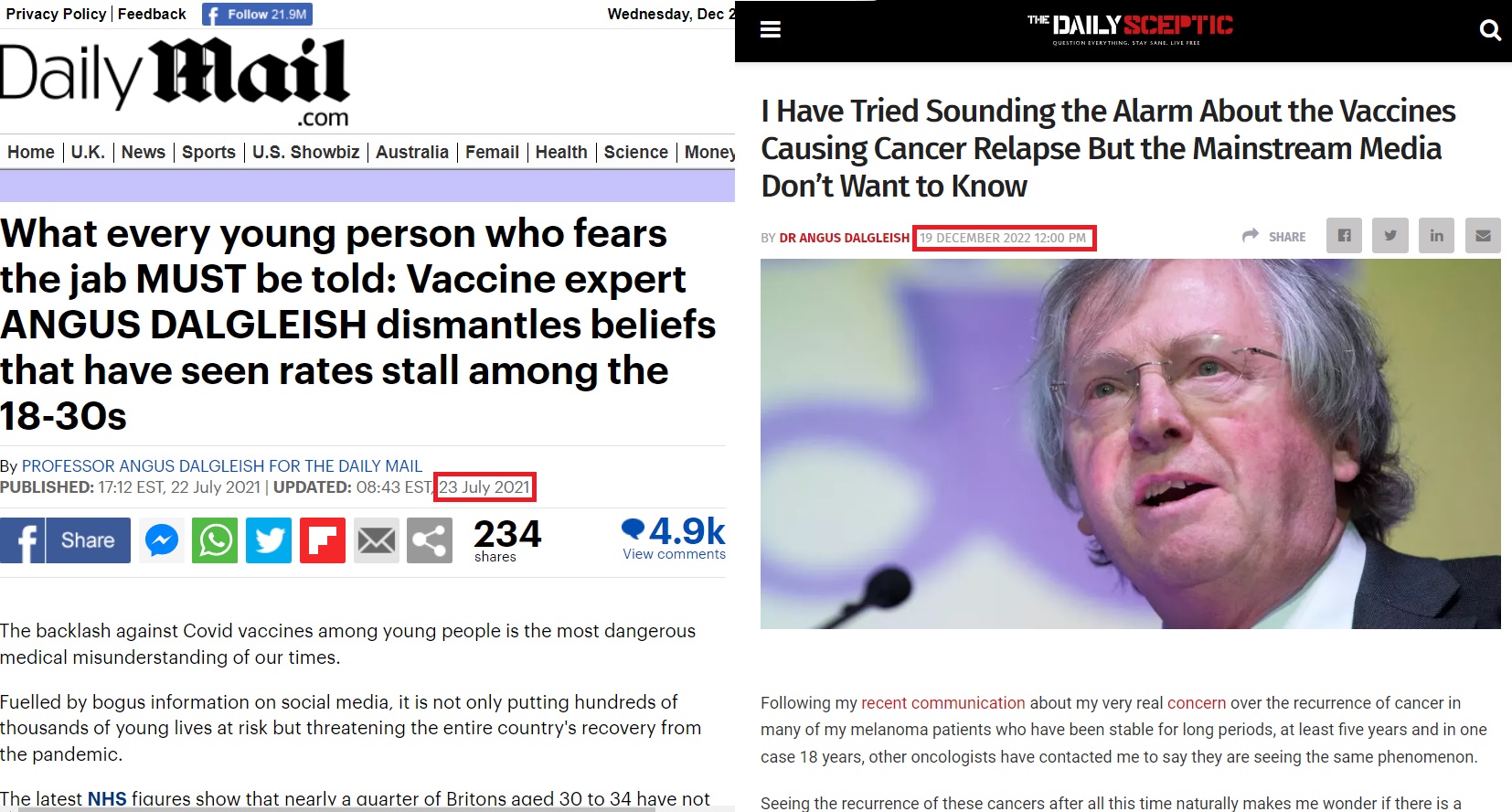 From The Daily Sceptic, "I Have Tried Sounding the Alarm About the Vaccines Causing Cancer Relapse But the Mainstream Media Don't Want to Know":

Following my recent communication about my very real concern over the recurrence of cancer in many of my melanoma patients who have been stable for long periods, at least five years and in one case 18 years, other oncologists have contacted me to say they are seeing the same phenomenon.

Seeing the recurrence of these cancers after all this time naturally makes me wonder if there is a common cause? I had previously noted that relapse in stable cancer is often associated with severe long-term stress, such as bankruptcy, divorce, etc. However I found that none of my patients had any such extra stress during this time but they had all had booster vaccines and, indeed, a couple of them noted that they had a very bad reaction to the booster which they did not have to the first two injections.

I then noted that some of these patients were not having a normal pattern of relapse but rather an explosive relapse, with metastases occurring at the same time in several sites. Obviously, I began to wonder whether the booster vaccines could be causing these relapses and were not just coincidence, as my colleagues were willing to suggest.

Within a three-month period I have been able to identify eight people who have developed B-cell malignancies following the booster, with two of them reporting that they instantly felt very unwell after the booster, having had no problem after the first two vaccines, then describing the symptoms of extreme exhaustion and long Covid before being investigated and finding out that they had a B-cell leukaemia in two cases, non-Hodgkin's lymphoma in five and a very aggressive myeloma in the other case.
The Atlantic featured a similar article in Sept 2022 highlighting how Belgian immunologist Dr. Michel Goldman, a "lifelong promoter of vaccines," experienced "a brand-new barrage of cancer lesions—so many spots that it looked like someone had set off fireworks" in his body after getting "boosted."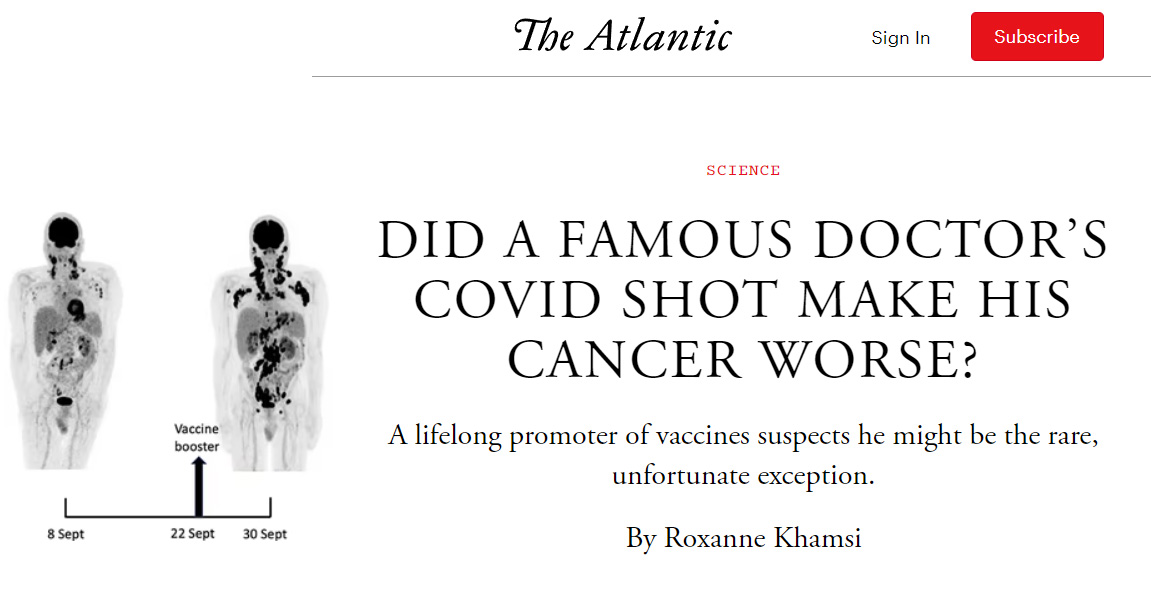 Other studies have found organ recipients rejecting transplants they've had for 20 years just days after getting the covid shot.

For all we know, it's vax shills who forced these experimental shots on everyone with zero long-term testing that are the real "major killing force globally."

Vax shills have already been forced to admit that their "100% effective" precious covid shots completely failed to stop the spread of the virus.

What's going to happen next if they're forced to admit they're destroying people's immune systems?

[Header image by Larry D. Moore via Wikimedia Commons, cropped, CC BY-SA 4.0]

Follow InformationLiberation on Twitter, Facebook, Gab, Minds and Telegram.