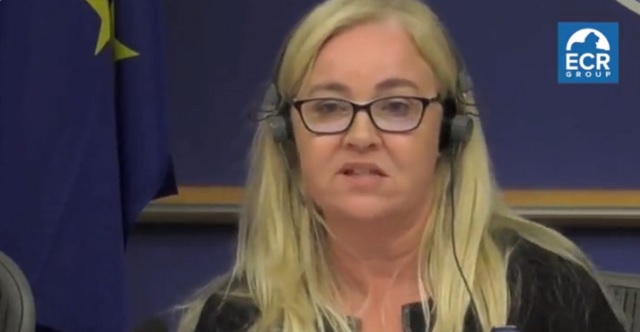 A senior Pfizer executive brought before the European Union Parliament to testify in place of CEO Albert Bourla on Monday admitted their company did not know whether their shots would prevent covid transmission before they were rolled out globally.



Janine Small, Pfizer's president of international developed markets, made the stunning admission under questioning from Dutch MEP Rob Roos, News.com.au reports:

"Was the Pfizer Covid vaccine tested on stopping the transmission of the virus before it entered the market?" Mr Roos asked.

"If not, please say it clearly. If yes, are you willing to share the data with this committee? And I really want a straight answer, yes or no, and I'm looking forward to it."

Ms Small — appearing in the place of Pfizer chief executive Albert Bourla, who had been called to testify but pulled out of the hearing earlier this month — replied that the company had to "move at the speed of science".

"Regarding the question around, um, did we know about stopping the immunisation [sic] before it entered the market? No, heh," she said.

"Uh, these, um, you know, we had to really move at the speed of science to really understand what is taking place in the market, and from that point of view we had to do everything at risk. I think Dr Bourla, even though he's not here, would turn around and say to you himself, 'If not us then who?'"
Pfizer did claim months after the rollout that it was "100% effective in preventing Covid-19" -- which was a total lie.


They claimed that because trial participants did not catch covid over the few months they were monitored it means the vaccine was effective at preventing transmission, which was utter nonsense and the definition of junk science.


Very few participants caught covid during Pfizer's initial trial and among those who did there were 15 deaths among the vaccinated and 14 deaths among those who received a placebo.

Clinical trials are slow, arduous processes for a reason.

Moving at the "speed of science" in this case meant skipping much-needed trials to determine whether these mRNA shots had genuine, long-term effectiveness and instead rushing untested, experimental mRNA gene therapy technology out at "Warp Speed," then vaccinating the placebo group to destroy the trial's results so the real effectiveness of your shots can never be known.

As the masses were forced to take these shots in order to work and go to school and were not properly informed of the risks in order to give informed consent, what took place was a crime against humanity without precedent.

FLASHBACK: Pfizer Tells Kids Vax Will Make Them 'Superheroes,' Give Them 'Superpowers'

Follow InformationLiberation on Twitter, Facebook, Gab, Minds and Telegram.