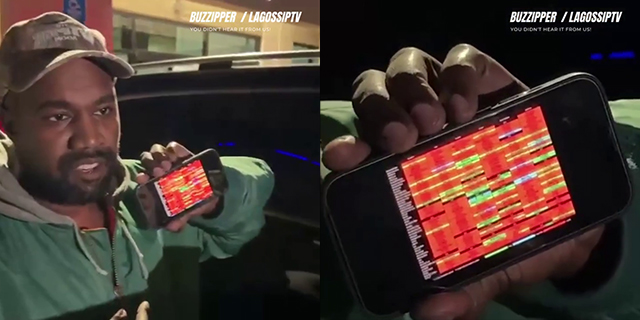 Ye, formerly known as Kanye West, went off on the "red media" and questioned why saying "White Lives Matter" is considered "anti-Semitic" while speaking with press and fans in Los Angeles on Friday night.

Asked by a journalist if he would be "walking back" his comments about "Jewish media," Ye presented a "Who Controls Your Mind" chart listing various Jewish and "Goy" businessmen who lead major media and social media outlets.

"The red are the executives who are Jewish at these companies," Ye said.

"I got a new word for 2024," Ye said. "The red media."

"The red media, if you go to Apple right now ... let's load up the top ten songs, I guarantee you they're promoting black serial killing," Ye said. "Not just one-- they're promoting, the red media is making money off of black people being serial killers to one another," Ye said.




"Blacks are coming into money, we're not scared anymore," Ye said. "I showed you, I crossed that line. They tried to bankrupt me, they tried to say I was crazy -- and I'm alive."




"What I'm saying is, I'm being honest with you guys, I'm been humble and I have no reason to lie," Ye said. "My family was taken away from me, my reputation has been smeared--" Ye said, choking up.

"The real hate is what's happening in the media," Ye said. "The idea of 'defcon' was to get protected in times like this."

"Let's lead with love," Ye said. "I have no association to any hate group, if any hate happens upon any Jewish person it's not associated [with me] because I am demanding that everyone walk in love."




Ye continued: "Even though there's been things that have happened wrong to me that made me want to speak up, that you guys saw in the past two weeks -- you saw the power, you saw Ari Emanuel come out in public -- if that happened in public what do you think happened in private? What do you think happened in private to so many people for so many years? I'm telling everyone, no matter what background you are, no matter what socio-economic class you are, walk with love right now, do what God would want, what would Jesus do? Walk with love, spread love, spread happiness."

Follow InformationLiberation on Twitter, Facebook, Gab, Minds and Telegram.