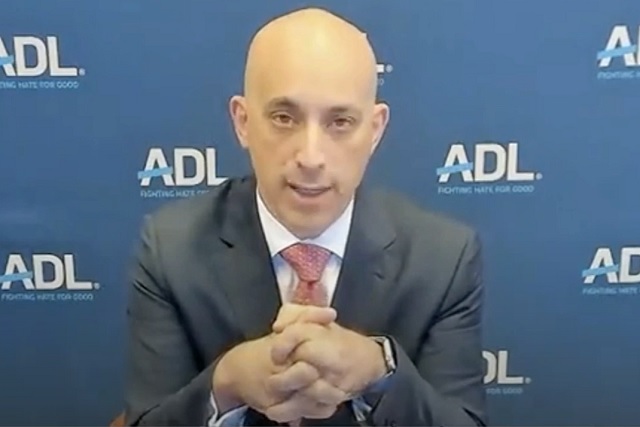 Anti-Defamation League CEO Jonathan Greenblatt and Hollywood bigwig Ari Emanuel are demanding that Ye be canceled by Adidas, GAP, Apple and Spotify for his "anti-Semitic" views.


Greenblatt on Thursday demanded Adidas cancel Ye and accused them of being Nazis:



"In light of Kanye West's increasingly strident antisemitic remarks over the past few weeks, we were disturbed to learn that Adidas plans to continue to release new products from his Yeezy brand without any seeming acknowledgement of the controversy surrounding his most recent remarks," Greenblatt wrote in a letter to Adidas. "We urge Adidas to reconsider supporting the Ye product line and to issue a statement making clear that the Adidas company and community has no tolerance whatsoever for antisemitism."


Greenblatt also demanded GAP cancel Ye immediately:


Ari Emanuel also called for all of Ye's concerts to be canceled.

"Apple and Spotify, which host West's music, whoever organises West's tours, and Adidas, which collaborates with West on his fashion line, should all stop working with him," Emanuel wrote Wednesday in a piece in the Financial Times. "The parent company of Parler, the Twitter competitor, should refuse to sell to West."

Emanuel continued:

In 2006, Mel Gibson made an anti-Semitic rant after being pulled over for driving while drunk in Malibu, California. I immediately called on the entertainment industry to refuse to continue working with Gibson.

Yes, several years later, I recommended him for roles. But that was only after Gibson's public apology and his commitment to understanding the consequences of his actions.

He put in the work. "There is no excuse, nor should there be any tolerance, for anyone who thinks or expresses any kind of anti-Semitic remark," Gibson said.

I agree. It was true then and it's true now. We are all capable of learning and evolving, and if West would like to be educated about the history and consequences of anti-Semitism and the conspiracy theories he's parroting, if he wants to reach out to religious leaders — including rabbis, Muslim leaders, Christian leaders — I'd be happy to help.

But until that happens, the leaders he's doing business with need to speak up. Our clients LeBron James and Maverick Carter just cancelled an episode of James's YouTube talk show The Shop: Uninterrupted after West continued to repeat dangerous stereotype during filming. "Hate speech should never have an audience," said Carter.

Those who continue to do business with West are giving his misguided hate an audience. There should be no tolerance anywhere for West's anti-Semitism. [Emphasis added]
The fashion company Balenciaga announced on Friday they were cutting ties with Ye over his "anti-Semitic" views.


As a result of his political views, Ye has now been:

- Canceled by Balenciaga
- Suspended from Instagram and Twitter
- Had his bank account with JP Morgan Chase closed
- Had at least four SoFi stadium shows canceled
- Had his "White Lives Matter" shirt canceled
- Had his interview with Drink Champs deleted off YouTube

Ye is also being threatened with a potential $250 million lawsuit.

Ye said in an interview on Tuesday that the fact the "Jewish media" is attacking him so hard is proof everything he said was right.

"I said that the Jewish media controls so many things," Ye said. "It's not all the Jewish people but there's specifically Jewish people in media that are in power that bought the black voice -- but they haven't been able to buy my voice, so instead they blackball me, they threaten people to not interview me, they threaten people to get away from me, they close down my stadiums ... they've done all this stuff for years."

Follow InformationLiberation on Twitter, Facebook, Gab, Minds and Telegram.