FBI Director Chris Wray Plays Victim After Trump Raid: Threats Against The FBI Are 'Deplorable And Dangerous'
Chris Menahan
InformationLiberation
Aug. 11, 2022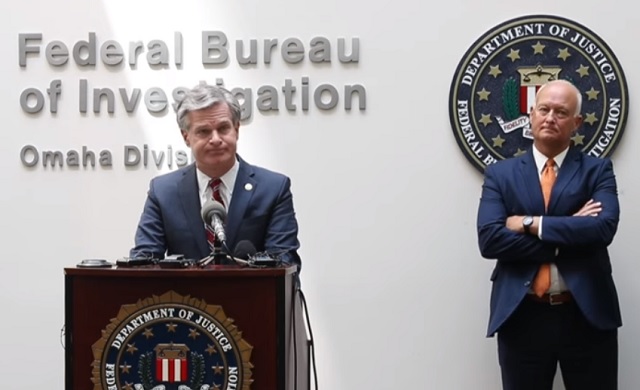 FBI Director Chris Wray decided to play the victim on Wednesday after facing backlash for launching a raid of former President Donald Trump's Mar-a-Lago home.

After refusing to discuss any details of the raid during a visit to the FBI's field office in Omaha, Nebraska, Wray took time to denounce alleged threats made online against federal agents and the Justice Department.

"I am always concerned about violence and threats of violence against law enforcement, and that is a topic that I have been talking about frequently, including earlier today with law enforcement partners here in Nebraska and yesterday with law enforcement partners in Iowa and Illinois," Wray told the media. "And any threats made against law enforcement -- including the men and women of the FBI -- as with any law enforcement agency, are deplorable and dangerous."

WATCH:



Though you may be outraged that the lawless FBI/DOJ launched a raid on Trump's home over a possible alleged violation of the Presidential Records Act, got approval for the raid from a Jeffrey-Epstein linked magistrate judge and had an FBI informant infiltrate Trump's home and tip them off to the location of said documents, please remember that the FBI is the real victim here because some anonymous people on the internet allegedly threatened them.

This is why the IRS and other regime agencies needs to hire a bunch of new special agents who are ready and willing to kill.

Follow InformationLiberation on Twitter, Facebook, Gab, Minds and Telegram.