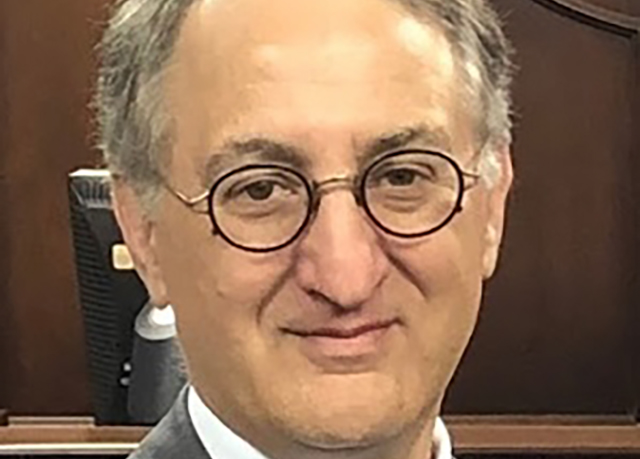 Florida federal magistrate judge Bruce Reinhart, the man who reportedly signed off on the FBI's raid of Donald Trump's Mar-a-Lago home, went from "prosecuting" Jeffrey Epstein with kid gloves to representing his associates and securing them immunity from prosecution, according to reports.

From The Daily Mail, "Judge who signed off the FBI raid on Donald Trump's Mar-a-Lago mansion donated $2,000 to Barack Obama's campaign and represented Jeffrey Epstein's Lolita Express pilots, his scheduler and 'Yugoslavian sex slave'":

The Florida judge who signed off the FBI raid on Donald Trump's mansion represented Jeffrey Epstein's workers, it has been revealed.

Bruce Reinhart acted for several employees of the billionaire pedophile before he sanctioned the 'unannounced' search on Mar-a-Lago yesterday.

He left the local US Attorney's office over a decade ago to set up a private practice and help staff members including his Lolita Express pilots and his scheduler.

He was accused in a lawsuit of breaking the Justice Department's policies by using information from his previous job to benefit in the private sector, which he denied.

Meanwhile Reinhart was also revealed to have donated to Barack Obama's campaign in 2008 and Jeb Bush's when he ran against Trump in 2015.

[...] Sources told the New York Post Reinhart approved the FBI warrant that let them ransack the Florida mansion yesterday morning.

[...] Reinhart was made a magistrate judge four years ago after spending 10 years in the private sector where he worked with Epstein's staff.

He helped the billionaire pedophile's pilots Larry Visoski, David Rodgers, Larry Morrison and Bill Hammond.

He also worked with scheduler Sarah Kellen and Nadia Marcinkova, who was known as his 'Yugoslavian sex slave'.

On New Year's Day 2008 he left his job at the South Florida US Attorney's Office and went to work with the employees the next day.
The Miami Herald reported in 2019 how Reinhart went from prosecuting Epstein to representing his accused accomplices in one year and helped them "receive federal immunity for allegedly trafficking underage girls."


From The Miami Herald:

On Oct 23, 2007, as federal prosecutors in South Florida were in the midst of tense negotiations to finalize a plea deal with accused sex trafficker Jeffrey Epstein, a senior prosecutor in their office was quietly laying out plans to leave the U.S. attorney's office after 11 years.

On that date, as emails were flying between Epstein's lawyers and federal prosecutors, Bruce E. Reinhart, now a federal magistrate, opened a limited liability company in Florida that established what would become his new criminal defense practice.

The stated address, according to Florida state corporate records: 250 South Australian Ave., Suite 1400. It was the same location, and identical suite number, as that of Epstein's lead attorney, Jack Goldberger.

By the end of the year, Reinhart had resigned his post in the Southern District of Florida. Within days, on Jan. 2, 2008, he was hired to represent several of Epstein's accused accomplices who would later, like Epstein, receive federal immunity for allegedly trafficking underage girls.

Reinhart's defection was one of many highly unusual turns that the Epstein case took 12 years ago, moves that could merit examination as the multimillionaire's controversial non-prosecution agreement is dissected in the wake of his arrest last week on sex trafficking charges.

[...] The Herald's series examined a number of people whose actions were questioned by lawyers representing Epstein's victims. Besides Acosta, two other prosecutors in the Southern District of Florida were named in court documents connected to a civil lawsuit filed by two Epstein victims in 2008.

One of them was Palm Beach federal magistrate Reinhart. In a 2011 sworn affidavit submitted in the civil case, Reinhart denied he did anything unethical or improper. He asserted, under the penalty of perjury, that he was not part of the team involved in Epstein's investigation and therefore was not privy to any confidential information about the case.

But two years later, Reinhart's former supervisors in the U.S. Attorney's Office filed a court paper contradicting him, saying that "while Bruce E. Reinhart was an assistant U.S. attorney, he learned confidential, non-public information about the Epstein matter."

In response to a request for comment from the Herald last year, Reinhart said that he doesn't recall learning anything about Epstein's criminal case.

"Even assuming I had participated 'personally and substantially' in the Epstein investigation [which I did not], the relevant Department of Justice regulations only prohibited me from communicating with, or appearing before, the United States on behalf of Mr. Epstein," he said in an email, noting that while he represented a number of Epstein's employees, he did not represent Epstein. He declined to say whether he was paid by Epstein for representing several of Epstein's accused co-conspirators, including Sarah Kellen, Epstein's assistant in Palm Beach. Kellen, whose subsequent married name is Vickers, allegedly scheduled underage girls to visit Epstein three and four times a day, court and police records show.

[...] In the years following the Florida FBI probe, several lawyers who represented Epstein's victims, as well as a private investigator, filed complaints with the Justice Department's Office of Professional Responsibility, claiming that Epstein's case may have gone off the rails because he improperly influenced federal prosecutors.

One of those complaints, filed by Paul Cassell, a former federal judge in Utah who represents Epstein's victims, ended up in the hands of the U.S. Attorney's Office in Puerto Rico. Reinhart said that the complaint, which alleged Reinhart committed perjury in his affidavit, was fully investigated, "and they declined to pursue the matter," Reinhart said.

The Miami Herald submitted a Freedom of Information Act request for the investigation, but the Justice Department denied the request, so it's not clear what the investigation entailed.

Gagliano said it's common for federal prosecutors to go into the private sector after serving in the Justice Department, where they make modest salaries. Since Reinhart wasn't assigned the case, he could successfully argue that he wasn't privy to anything other than banter over the water cooler, said Gagliano, who is also a CNN law enforcement analyst.
We're living under the most corrupt regime in US history.

Follow InformationLiberation on Twitter, Facebook, Gab, Minds and Telegram.