White people are well liked -- here's why that's a problem.

From Judicial Watch:

In yet another racial equity venture funded by American taxpayers, a private university is getting tens of thousands of dollars from the U.S. government to study the "developmental trajectory of children's beliefs that white malesómore so than black males, white females, or black femalesóbest exemplify a person." The three-year research project, to be conducted by academics at New York University (NYU), seeks to uncover why kids "favor Whiteness and maleness over other identities," according to the grant announcement issued by the Department of Health and Human Services (HHS), the agency doling out the cash for the study.

The project is part of a broader HHS Equity Action Plan designed to transform how the agency does business in order "to concretely advance equity." Under the overhaul a Minority Health Social Vulnerability Index was launched to help identify racial and ethnic communities at the greatest risk for disproportionate impact and adverse outcomes due to COVID-19 and a Racial Equity in Postpartum Care Challenge was created to reduce disparities and improve outcomes for postpartum "Black or African American" women enrolled in Medicaid, the government's insurance program for the poor. HHS has also doled out millions of dollars to "minority-serving institutions" charged with strengthening COVID-19 vaccine confidence among racial and ethnic minority groups as well as underserved communities.

In the agency's latest racial equity endeavor, researchers at NYU will receive more than $40,000 to study "societal assumptions regarding typical personhood and their effects on reasoning development." The HHS grant announcement further specifies that the goal is to "uncover the development processes by which children acquire the belief that white males represent the default personóa pattern rooted in ideologies of androcentrism (centering the experiences of men) and ethnocentricism (centering the experiences of white people) prevalent in the United States." The document goes on to state that "despite national rises in racial and gender diversity, white men remain vastly overrepresented across a host of domains within the U.S., from media, to politics, to clinical research." That overrepresentation poses severe costs to the rest of society, the nation's health agency writes, identifying the victims as "women of all races, men of color, and gender-nonconforming individuals."

The Biden administration is particularly concerned with embedded disparities in health, where clinical trials have historically prioritized the experiences, perspectives, and health outcomes of white men. "To address this issue, we must understand when and how the tendency to view white males as default people develops across childhood, as well as the environmental factors that underlie this phenomenon," the HHS grant document states. Specifically, the government wants to know the developmental trajectory by which children's default representations of people begin to favor whiteness and maleness over other identities, the domains across which children activate a white male default to guide social reasoning, and the sociocultural and ecological factors that can prevent the development of those beliefs. "Young children actively construct knowledge to make sense of their social environments," according to the grant document. "As part of this process, children absorb complex streams of information from the sources around them, including parents, peers, and broader societal institutions (e.g., media)." HHS proceeds to explain that the beliefs children acquire tend to reflect the dominant ideologies embedded in their specific cultural contexts. In the U.S., those ideologies include the previously mentioned "androcentrism and ethnocentrism."
NYU a few years ago hired self-described white genocide advocate George Ciccariello-Maher, who said the brutal massacre of white men, women, children and babies during the Haitian revolution "was a good thing indeed."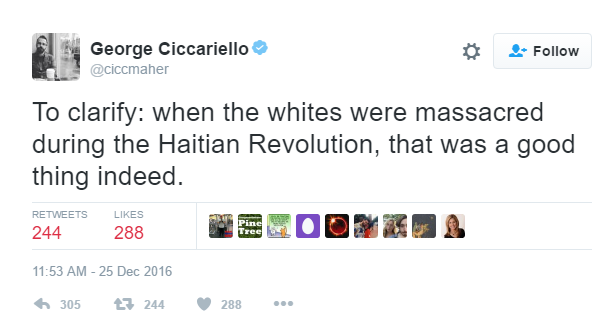 HHS Secretary Xavier Becerra and Assistant Secretary Rachel Levine are now pouring money into this college to study how to make children hate white people.

Follow InformationLiberation on Twitter, Facebook, Gab, Minds and Telegram.