With Biden's Approval Rating Hitting Record Low, GOP Works to Hand Dems a Win On Gun Control
Chris Menahan
InformationLiberation
Jun. 05, 2022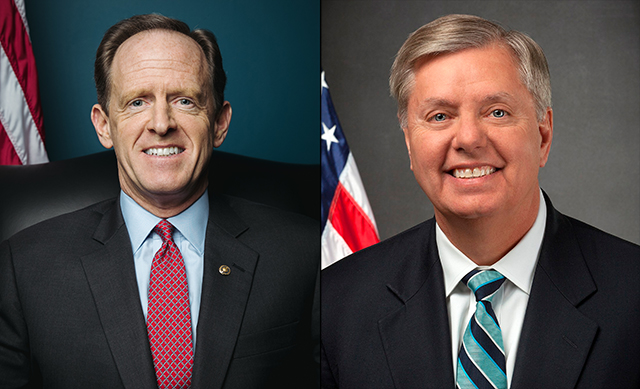 Joe Biden's approval rating is lower than "every president of the modern era at this stage of their term" but Republican senators are working to hand him a big win and sell out their base by teaming up with Democrats to pass gun control legislation.

"President Joe Biden finally did it. The lackluster leader's approval rating has fallen below every president of the modern era at this stage of their term," the Washington Examiner reported late last month. "Citing approval polling dating back to Harry S. Truman in 1945, FiveThirtyEight said that no president has been below, or even equal to, Biden's average of 40.9% on Day 490 of their presidency."



President Trump was completely stonewalled by Democrats throughout his entire presidency but the GOP is regularly looking to work across the aisle to boost Biden's failing presidency.

On Sunday, Pennsylvania Senator Pat Toomey (R) went on CBS's "Face the Nation" to shill for gun control and said he's hopeful that "at least half" of GOP senators will support new restrictions.

Toomey said Biden's extreme gun control proposals "have no chance of passing the Senate" and "the president is not being very helpful" but the GOP will step up to the plate and push through their own gun control measures for him.



"The problem is I think the President might have been a president who would reach across the aisle try to bring people together but he's chosen not to take that approach since day one," Toomey said. "He has sided with the far left of his party and really not reached out to Republicans. He gave a speech on this topic where he advocated policies that he knows for sure have no chance of passing the Senate probably couldn't even get 50 votes, and hold the Democrats much less get the 60 we would need. So once again, the President is not being very helpful. I think at the end of the day, this is going to come down to whether we can reach a consensus in the United States Senate. There are intensive discussions underway. It includes people who have not been engaged on this issue in the past. I can't certainly can't guarantee any outcome but it feels to me like we are closer than we've been since I've been in the Senate."

"So you can get four other Republicans to stand with you, the six who are negotiating?" CBS's Margaret Brennan asked.

"My hope is we'll get a lot more than that," Toomey responded. "My hope is we'll get at least half the Republican conference."

"Is there a risk that the Republican Party becomes associated with gun violence, if you can't get those votes?" Brennan said.

"You know, look, I think the Republicans have been very consistently supporters of Second Amendment rights," Toomey responded. "Republican voters expect Republicans to defend the Second Amendment. I think there is a place to land that's consistent with the Second Amendment, as I've been advocating for expanding background checks, by the way, I think encouraging states to have some kind of red flag laws could make sense as long as there's adequate due process. I think there are school safety provisions, there are mental health issues that we could address. So there are things we could do that would be constructive, that are consistent with Republican values, and I'm hoping we'll get there."

Red flag laws are "Republican values." Same goes for "expanded background checks" and "criminal justice reform."

South Carolina Senator Lindsey Graham (R) also voiced his support for gun control on Thursday after Biden gave a radical speech essentially calling for New York's anti-gun laws to go nationwide.


"I stand ready to vote on ALL the proposals mentioned by President Biden tonight and encourage the Democratic Leader to bring them forward for votes," Graham said. "I also stand ready to work across the aisle to find common ground - something that was absent from President Biden's address to the nation."



Biden's gun control proposals are destined to fail so the GOP is stepping in to do his job for him. This is our "opposition party."

Follow InformationLiberation on Twitter, Facebook, Gab, Minds and Telegram.