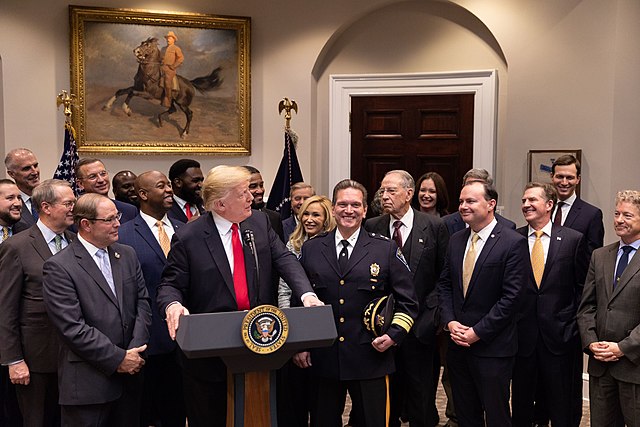 The GOP joined with Democrats in 2018 to pass the First Step Act and grant early release to carjackers, rapists, bank robbers and murderers in the name of fighting "systemic racism."

The GOP got on board with the jailbreak legislation due to lobbying from the Koch brothers and Chabad-Lubavitch, which counts Jared Kushner as a member.

After the GOP-approved bill helped spawn a record crime wave in major cities across America, Republicans stopped talking about it entirely and pivoted to acting like they're the party of law and order. The Democrats helped bail them out by going off the deep end and embracing the "defund the police" movement.

From Politico, "Trump's criminal justice reform bill becomes persona non grata among GOPers":

When Donald Trump signed a long-sought criminal justice reform measure into law in 2018, he had visions of using the legislation to make major inroads with Black and moderate swing voters.

The First Step Act was not just hailed as a rare bipartisan achievement for the 45th president but as the beginning of a major shift in GOP politics, one that would move the party past the 1980s tough-on-crime mindset to a focus on rehabilitation, racial fairness and second chances.

Three-and-a-half years later, few Republicans — Trump included — seem not at all interested in talking about it.

With spikes in crime registering as a top concern for voters, Republicans have increasingly reverted back to that 1980s mindset. Talk of additional legislation has taken a back seat to calls for enhanced policing and accusations that Democratic-led cities are veering toward lawlessness.

Trump himself rarely, if ever, mentions criminal justice reform when he issues statements or gives political speeches, having grown convinced the First Step Act never produced the spike in support from Black voters that he expected.
Trump blamed Kushner for pushing him to support the legislation, which he later described as a "total dud" and "political loser," according to Politico.

While it didn't go as far as advocates hoped, the First Step Act was widely regarded as a significant overhaul of the criminal justice system. The law aimed to shorten sentences for nonviolent drug offenders and improve incarceration conditions at the federal level, and sought to address racial inequalities in the justice system.

While he had branded himself as a tough-on-crime Republican, getting Trump on board wasn't simple. Then-Senate Judiciary Chair Chuck Grassley (R-Iowa) and Trump's son-in-law, Jared Kushner, labored to convince him that embracing criminal justice reform wouldn't tarnish his image — and could even be a political boon. The support of influential conservatives, and celebrities like Kim Kardashian, further convinced Trump the move would win over certain demographics.
It didn't help get him any votes but it did help spawn a record crime wave.
In the past year, violent crime rates have risen dramatically, with at least 12 major U.S. cities breaking annual homicide records in 2021. Recent polling reflects public concerns about rising crime rates and dissatisfaction with how public leaders are addressing the problem. Republicans pointed to the trends as evidence of a Democratic failure.

"After blocking common sense police reform, enacting soft-on-crime policies, and cheering to defund the police, [President Joe] Biden and Democrats' words and actions have come to fruition as American cities face record surges in crime," said Republican National Committee spokesperson Emma Vaughn. "Democrats may be too out of touch surrounded by private security to know the reality of rising crime, but for Americans the consequences of their policies are very real."

Republicans aren't alone in tightening their messaging. In major Democrat-led cities like San Francisco, Chicago and Washington, D.C., leaders are calling for more, not less, police funding. Biden, who ran in 2020 on increasing police budgets, has continued pushing for more money, even calling on states to use Covid-19 aid to hire more law enforcement officers.
The First Step Act should hang around Republicans' neck like an albatross. It was the perfect example of what the GOP does when they actually have power. Rather than serve the interests of their voters, they serve the interests of their billionaire donors and screw over their base at every opportunity.

With Democrats' midterm prospects looking bleak as a result of their own soft-on-crime policies, we can be certain Politico is only bringing this bill up to try and spread the blame around. Regardless, the GOP deserve every ounce of scorn they get!

Follow InformationLiberation on Twitter, Facebook, Gab, Minds and Telegram.