Biden Bans All Imports of Russian Oil And Gas As Prices Skyrocket
Chris Menahan
InformationLiberation
Mar. 08, 2022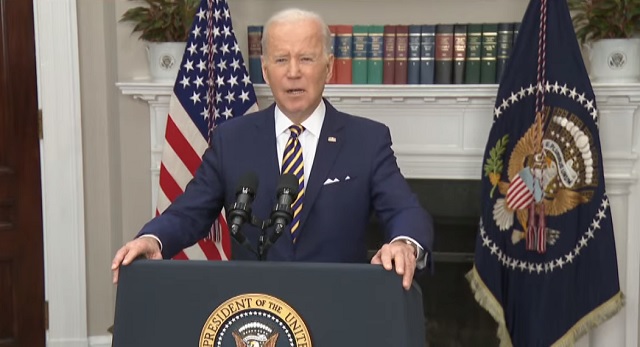 Joe Biden on Tuesday announced a ban on Russian oil and gas imports in order to "deal another powerful blow to Putin's war machine."

"We're banning all imports of Russian oil and gas and energy," Biden said Tuesday. "That means Russian oil will no longer be acceptable in U.S. ports and the American people will deal another powerful blow to Putin's war machine."


The import ban comes as oil has skyrocketed to nearly $130 a barrel.

"We are going to see increased gas prices here in the United States. In Europe, they will see dramatic increases in prices," Sen. Chris Coons (D-DE) told CNN on Tuesday. "That's the cost of standing up for freedom and standing alongside the Ukrainian people, but it's going to cost us."


Politico reported Monday that our worthless Congress was going to force the ban on Biden regardless.

From Politico, "Biden set to ban Russian oil under pressure from Congress":

The administration's newfound interest in an import ban is motivated in part by a desire to avoid a protracted debate over bipartisan oil-ban legislation that could include even more unwelcome provisions further tying the administration's hands diplomatically. It also helps avoid the potential embarrassment of lawmakers appearing tougher on Putin than the president by forcing his hand and sending him a bill to sign.

Underscoring the urgency of the moment, Senate Majority Leader Chuck Schumer said Monday that he had spoken with Biden administration officials about curbing Russian imports "and they're looking closely at it." He said the administration is working with European allies — several of whom have already said they oppose a ban — and that he expects the public to hear from the White House relatively soon.

"I'd love for President Biden to do it on his own. I think he's looking at it very seriously," said Sen. Joe Manchin (D-W.Va.), whose vote is critical to Biden's success in a 50-50 Senate. "It needs to happen."
I'm sure the good people of West Virginia want to be killed at the pump to punish Putin.


Biden has already moved to cozy up to Nicolas Maduro for oil.


Maduro was an evil dictator who needed to be overthrown a year ago but now he's our greatest ally!


Polls showed the overwhelming majority of Americans did not want to get involved in the Ukraine-Russia war but our Congress knows better. We all must sacrifice so that NATO can expand!

Follow InformationLiberation on Twitter, Facebook, Gab, Minds, Parler and Telegram.