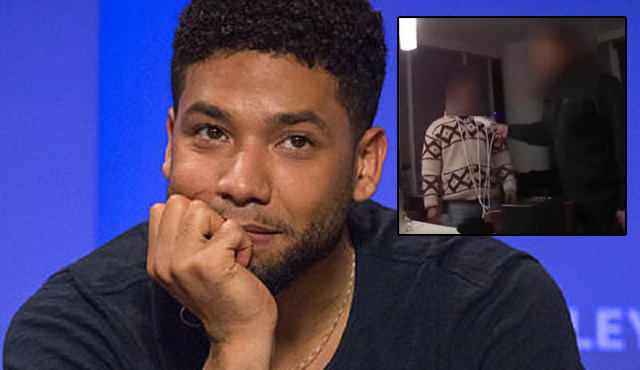 Republicans and Democrats in the Senate came together unanimously on Monday to expand federal hate crime laws by passing an "anti-lynching" bill inspired by the "attempted modern day lynching" of Jussie Smollett three years ago in MAGA country.

Sen. Cory Booker (D-NJ), who co-sponsored the Senate version of the anti-lynching bill with Sen. Kamala Harris (D-CA) and Sen. Tim Scott (R-SC), argued for the legislation on the floor of the Senate in 2019 by citing the alleged attack on Smollett and insisting "lynching is not a relic of the past."



Senator Kamala Harris at the time described the supposed attack on Smollett as "an attempted modern day lynching."


Sen. Rand Paul blocked the bill in the Senate for over two years after pointing out how it would allow the feds to throw Americans in prison for 10 years for slapping someone and uttering a racial slur. Nonetheless, Paul gave in this week after some unspecified changes were made to it.

From NPR, "Senate passes anti-lynching bill and sends federal hate crime legislation to Biden":

The Senate unanimously passed a bill on Monday that criminalizes lynching and make it punishable by up to 30 years in prison. It sailed through the House of Representatives last month, and President Biden is expected to sign it.

While it eased through both chambers of Congress this time with virtually no opposition, the path to passage took more than 100 years and 200 failed attempts.

Under the bill, named the Emmett Till Anti-Lynching Act after the 14-year-old boy from Chicago who was lynched while visiting family in Mississippi, a crime can be prosecuted as a lynching when a hate crime results in a death or injury, said Rep. Bobby Rush, D-Ill., a longtime sponsor of the legislation.
The homicide rate is higher than ever in major cities across America but our Congress is focused on avenging Emmett Till (and Jussie Smollett).
"Lynching is a longstanding and uniquely American weapon of racial terror that has for decades been used to maintain the white hierarchy," Rush said in a statement Monday evening. "Unanimous Senate passage of the Emmett Till Anti-Lynching Act sends a clear and emphatic message that our nation will no longer ignore this shameful chapter of our history and that the full force of the U.S. federal government will always be brought to bear against those who commit this heinous act."
GOP senators hear that type of rhetoric and they respond, "Sign me up!"

Out of the 4,000 or so people who were lynched in America from 1882-1968, 1,297 were white according to Tuskegee Institute archives.

That's never mentioned for obvious reasons.
Unanimous consent in the Senate allows a bill to pass without a roll call, so long as there's no senator present to object.


"Tonight the Senate passed my anti-lynching legislation, taking a necessary and long-overdue step toward a more unified and just America," Sen. Tim Scott, R-S.C., wrote on Twitter. "After working on this issue for years, I am glad to have partnered with colleagues on both sides of the aisle to finally get this done."
This is the party championing their supposed opposition to critical race theory.

Other co-sponsors of the Senate bill were Sen. Cory Booker, D-N.J., and Sen. Rand Paul, R-Ky. Paul objected to a similar bill that passed the House in 2020. At the time, he said the measure was too broad.

By Monday night, he was satisfied with the bill's language, "which will ensure that federal law will define lynching as the absolutely heinous crime that it is," he said.
Congratulations, Jussie Smollett. Even though you were thoroughly exposed and found guilty of staging an anti-white hate crime lynching hoax, you now have a hate crime bill passed unanimously by Republicans and Democrats in your honor!

[Header image by Dominick D via Flickr, CC BY-SA 2.0, Cropped from original, right overlay added.]

Follow InformationLiberation on Twitter, Facebook, Gab, Minds, Parler and Telegram.