Ottawa Police On Horseback Trample Peaceful Protesters, Accuse Victims of Exhibiting 'Assaultive Behaviour'
Chris Menahan
InformationLiberation
Feb. 18, 2022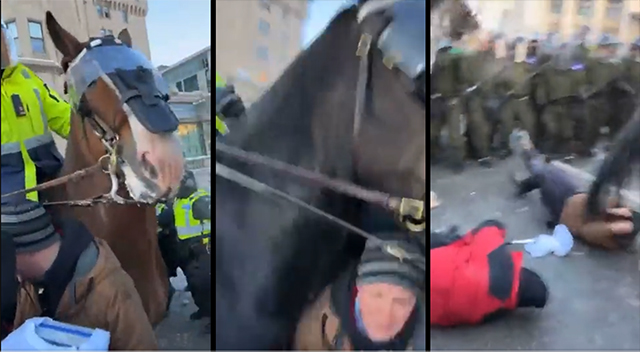 Disturbing video out of Ottawa on Friday shows police on horseback trampling a man and a woman with a walker.




Ottawa Police defended their actions afterwards by claiming protesters showed "assaultive behavior."



It appears that the "bicycle" they referenced is actually the older woman's walker whom they trampled over.

You can see from the screenshots above she still had the walker in her hands after they trampled over her.

UPDATE: Here's video of the elderly woman right before she was trampled by police stating that she and others are only there to peacefully protest.


Conservative MP Dean Allison put out a statement on Twitter condemning Tinpot Trudeau's attacks on peaceful protesters.

"What we are seeing today is authoritarian, military style measures carried out against peaceful protesters on the orders of Justin Trudeau," Allison said. "What's worse, it's all being cheered on by the Ottawa and Toronto journalist class. Absolutely sickening."


Follow InformationLiberation on Twitter, Facebook, Gab, Minds, Parler and Telegram.