Donald Trump on Monday suggested reinvading Afghanistan "with unequivocal military force" to save our abandoned Black Hawk helicopters and Humvees from the Taliban.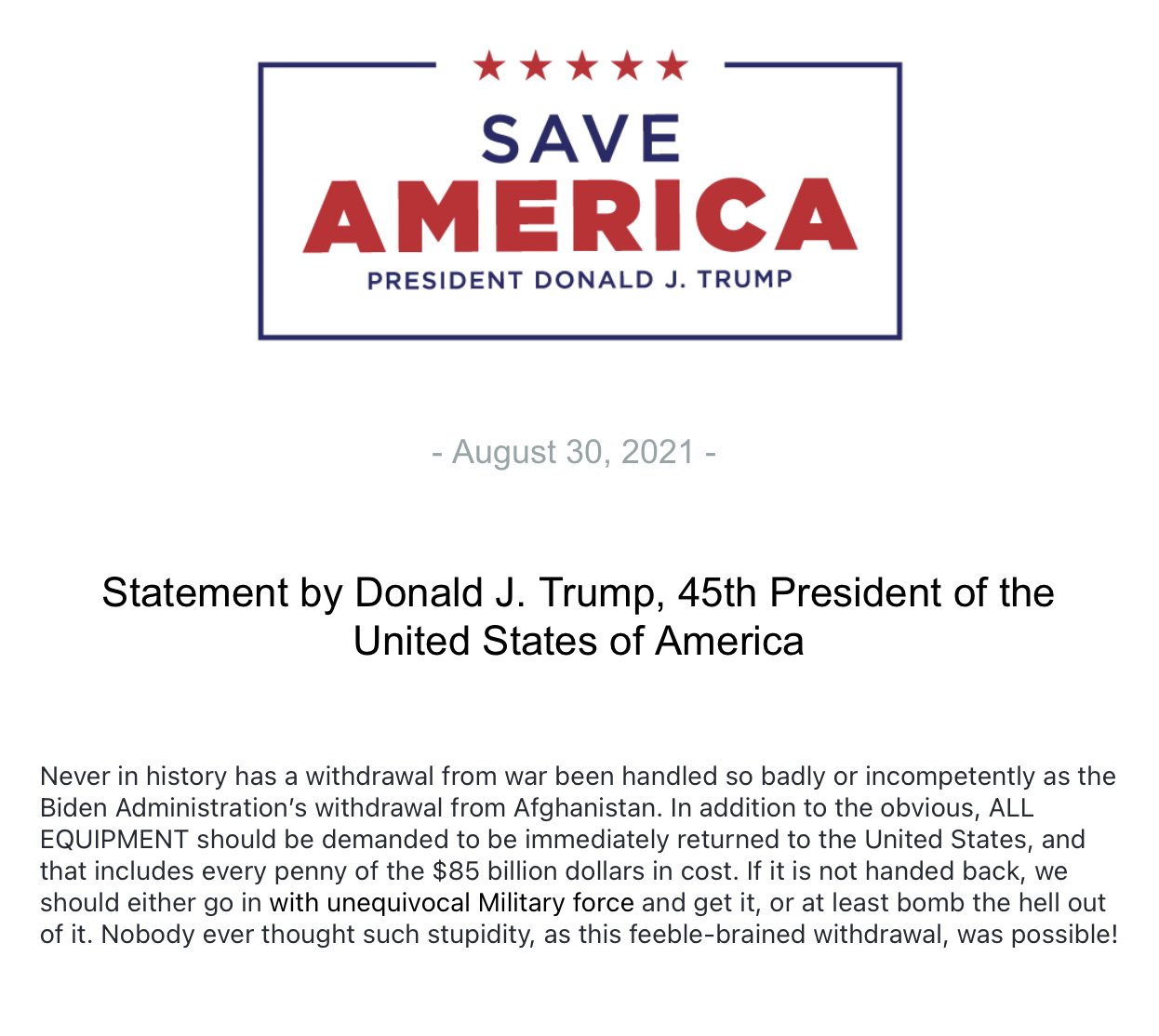 "Never in history has a withdrawal from war been handled so badly or incompetently as the Biden Administrationís withdrawal from Afghanistan," Trump said in a statement. "In addition to the obvious, ALL EQUIPMENT should be demanded to be immediately returned to the United States and that includes every penny of the $85 billion dollars in cost. If it is not handed back, we should either go in w/unequivocal Military force and get it, or at least bomb the hell out of it. Nobody ever thought such stupidity, as this feeble-brained withdrawal, was possible!"

Think "Saving Private Ryan" but the goal is to get back some abandoned Toyota trucks!

Is he saying this just to make Biden look good?

All that equipment was given to prop up the Afghan puppet government. They handed it all over without a fight.

In between Trump shilling the vax and endorsing endless GOP traitors for office, it feels like he's intentionally running his legacy into the ground.



He took 6 months just to say Ashli Babbitt's name and still hasn't given a dime of the $210+ million he raised off the "Stop the Steal" grift to any of his Jan 6 supporters' legal funds.

On Jan 7, Trump called for Capitol stormers to be prosecuted "to the fullest extent of the law" just days after he chose to pardon "the king of medicare fraud" and release traitor Jonathan Pollard from parole to "make aliyah" in Israel.


Is this the behavior of someone who cares about America First or someone who is being blackmailed?

Though Trump was elected in 2016 on a platform of pulling out of Afghanistan, he never followed through.

Defense One reported last week that Trump never intended to pull out of Afghanistan.

Trumpís Pledge to Exit Afghanistan Was a Ruse, His Final SecDef Says

Chris Miller now says talk of a full withdrawal was a ďplayĒ to convince a Taliban-led government to keep U.S. counterterrorism forces.

BY PATRICK TUCKER

President Donald Trumpís top national security officials never intended to pull all U.S. troops out of Afghanistan, according to new statements by Chris Miller, Trumpís last acting defense secretary.

Miller said the presidentís public promise to finish withdrawing U.S. forces by May 1, as negotiated with the Taliban, was actually a ďplayĒ that masked the Trump administrationís true intentions: to convince Afghan President Ashraf Ghani to quit or accept a bitter power-sharing agreement with the Taliban, and to keep some U.S. troops in Afghanistan for counterrorism missions.

In a conversation this week with Defense One, Miller revealed that while serving as the top counterterrorism official on the National Security Council in 2019, he commissioned a wargame that determined that the United States could continue to conduct counterterrorism in Afghanistan with just 800 American military personnel on the ground. And by the end of 2020, when he was acting defense secretary, Miller asserted, many Trump administration officials expected that the United States would be able to broker a new shared government in Afghanistan composed primarily of Taliban officials. The new government would then permit U.S. forces to remain in country to support the Afghan military and fight terrorist elements.

That plan never happened, in part because Trump lost his reelection bid in November. And at least one other former senior Trump administration official questioned Millerís retelling. But in revealing it, Miller challenged recent assertions that Trump is to blame for setting up this weekís chaotic scenes unfolding across Kabul. Miller alleged that despite Trumpís frequent public pledges to end the Afghanistan war and bring home all U.S. troops, many senior national security officials in his administration believed a total withdrawal was not inevitable.
Seems rather believable at this point.

Follow InformationLiberation on Twitter, Facebook, Gab, Minds, Parler and Telegram.