Alex Berenson Perma-Banned From Twitter For Highlighting Big Pharma's Failures
Chris Menahan
InformationLiberation
Aug. 29, 2021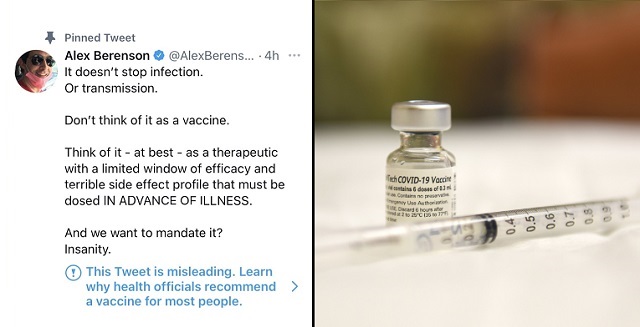 Former New York Times reporter Alex Berenson revealed Saturday that he was perma-banned from Twitter for sharing "entirely accurate" information on the failure of Big Pharma's experimental shots.

"This was the tweet that did it," Berenson said on his Substack. "Entirely accurate. I can't wait to hear what a jury will make of this."

"It doesn't stop infection. Or transmission. Don't think of it as a vaccine," Berenson's tweet said.

"Think of it -- at best -- as a therapeutic with a limited window of efficacy and terrible side effect profile that must be dosed IN ADVANCE OF ILLNESS," he continued. "And we want to mandate it? Insanity."

Everything he said about it not stopping infection or transmission is straight out CDC Director Rochelle Walensky's mouth (though she claimed just the opposite a few months ago).

March 30th:


August 5th:


The CDC even admitted efficacy was waning and is now pushing for booster shots (potentially every 5 months) despite no complete trials on their efficacy or side effect profile:



It's worth taking a look back at how Democrats were allowed to trash the experimental injections back when Trump was still president.


Now, folks like Berenson and others are getting banned for simply citing governments' own data from highly-vaxxed countries showing all our hesitancy was entirely warranted.

We're witnessing the merger of state and corporate power into one unifying regime seeking to crush the American people and bring them under their total submission.

Follow InformationLiberation on Twitter, Facebook, Gab, Minds, Parler and Telegram.