Media Release 'Fact Checks' On InfoLib Article Highlighting Biden Kneeling Before Israeli Prez
Chris Menahan
InformationLiberation
Jul. 13, 2021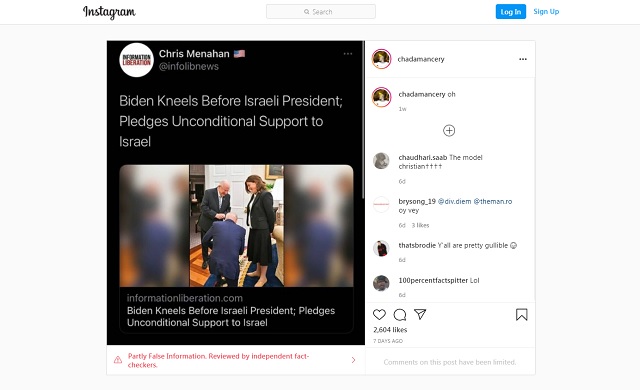 AP, Reuters and USA Today all released fake "fact checks" mischaracterizing my article from last week reporting on Joe Biden kneeling before Israeli President Reuven Rivlin in order to have it algorithmically suppressed on social media.

My article "Biden Kneels Before Israeli President; Pledges Unconditional Support to Israel" went viral all last week and screenshots of it were shared all over social media, much to the controlled media's chagrin.

They were really angry that it was factually accurate and made perfect use of a semi-colon so they just acted like there was no semi-colon and ignored the content of the article where I quoted extensively on the official story from the Israeli press.

From the AP, "Photo shows Biden kneeling to respect Israeli president's aide":

CLAIM: Photo shows President Joe Biden kneeling down to the Israeli president, "pledging unconditional support to Israel."

AP'S ASSESSMENT: False. Multiple media outlets wrote about the photo, which shows Biden kneeling before Rivka Ravitz, chief of staff for the Israeli president, after learning she had 12 children.

THE FACTS: On June 28, Biden met with outgoing Israeli President Reuven Rivlin at the White House, where Biden assured Israel that he will not tolerate a nuclear Iran, The Associated Press reported.

A photo of Biden kneeling during the meeting with Rivlin and Ravitz circulated on social media with a false caption.

"Biden Kneels Before Israeli President; Pledges Unconditional Support to Israel," states an Instagram post that misrepresented the photo. The false post also circulated on Facebook. [Links added from the USA Today article which cited the same sources.]

Haim Zach, a press photographer for the Israeli government, took the photo. Zach told the AP in an email that Ravitz is ultra-Orthodox. When Biden reached out to shake her hand, she didn't reach back because she doesn't shake hands with men. Zach said Biden then knelt and told Ravitz that as a Catholic man he wanted to show his admiration to her as a mother of 12.
Turns out Biden's kneeling was even more humiliating than I thought!

During the meeting with Rivlin, Biden underscored his support to normalize relations between Israel and countries in the Arab and Muslim world. Biden also said his administration would resupply Israel's Iron Dome missile defense system, which was drained during the recent conflict in Gaza, the AP reported.

A White House briefing issued after the meeting reads: "President Biden conveyed his unwavering support for Israel's security and his commitment to deepening the cooperation between the two countries across all fields." The statement did not use the phrase "unconditional support."
USA Today's article was pretty much a carbon copy as was the article from Reuters.

The AP and USA Today left out a link to my article because they didn't want people to see how I detailed all the claims from the Israeli press claiming he knelt "in honor" of Ravitz and highlighted a similar case in 2015 involving the Pope.

They also didn't want people to see the quote from the Israeli press showing Biden did pledge his unconditional support to Israel:

"The two presidents talked at length about the commitment to strengthen relations between the two countries," Kipa reported.

"My commitment to Israel is known and engraved in the rock," Biden said as reported by Kipa and translated by Google. "Includes an unquestionable commitment to Israel's self-defense. I can say that Iran will never receive nuclear weapons on my watch."
Every last one of these fake "fact checks" left that part out.

All Biden's actions taken after Israel's vicious bombing of Gaza, from replenishing Israel's Iron Dome missile supply and backing massive arms deals to knocking offline Press TV and other MidEast news sites, have made his unconditional support for Israel abundantly clear.

Our media refused to report on the kneeling incident because they didn't like the humiliating optics of our president on his knees getting laughed by the Israeli president and his chief of staff -- but they had no problem rushing to publish multiple fake "fact checks" to algorithmically suppress it!


I'm glad I got them to publish new details about how Biden took part in the humiliating display after Rivitz refused to shake his hand!

That makes his actions even more embarrassing!

As I've documented extensively, the media using fake "fact checks" purely as tools of political suppression is now the new normal.

What a surprise that 58% percent of Americans now view the media as "the enemy of the people!"

Follow InformationLiberation on Twitter, Facebook, Gab, Minds, Parler and Telegram.